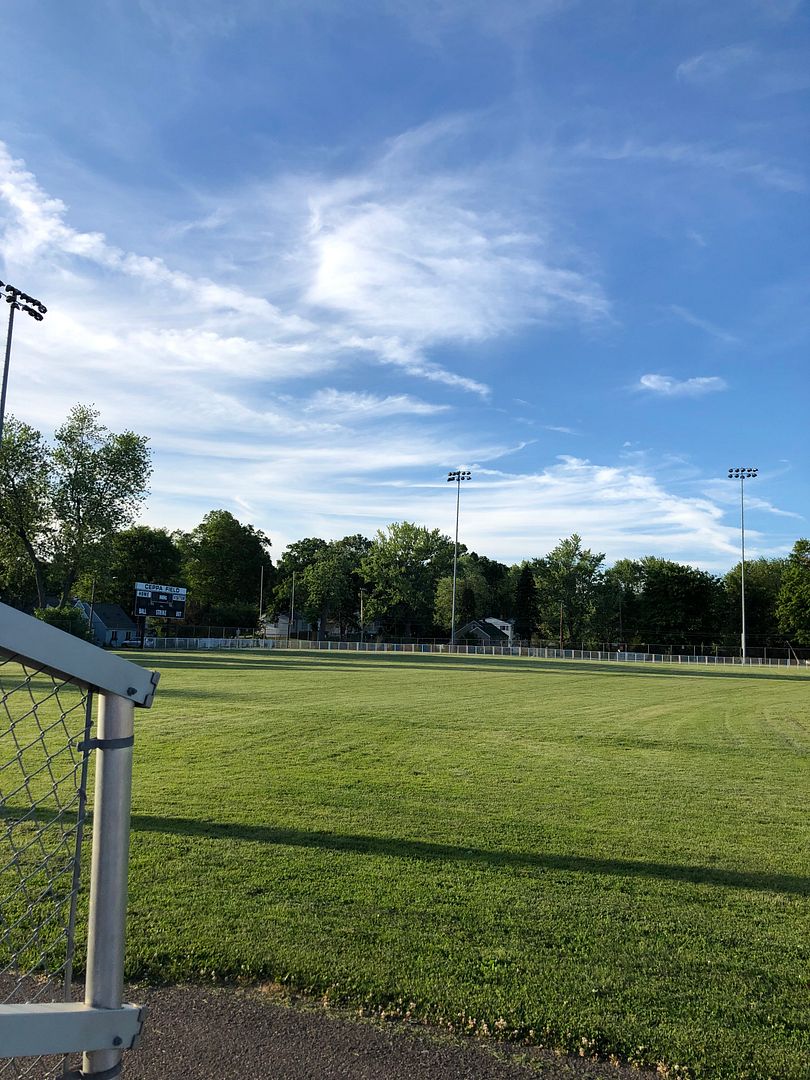 Official Box Score :::
https://hartfordtwilight.sportngin.com/game/show/25513848?subseason=564508&referrer=4591727
More Photos Can Be Found in this Facebook Album :::
https://www.facebook.com/pg/raisedbycassettes/photos/?tab=album&album_id=2856637734377782
//
This game started at 7 pm instead of 6 pm (like the two previous games at Ceppa Field) but I still showed up around 6 because I wanted to make sure the website was correct and I didn't have anything else to do. I thought it'd be better to sit outside for an hour than show up at 7 and miss an hour of the game. A.J. Hendrickson pitched for the RJ Expos- my second time seeing him pitch here- and the Ulbrich Steel had four different pitchers. Right away, the Steel put up three runs in the first inning and it didn't look good for the Expos. This time, my keeping score / track of innings in my phone actually was accurate.
After the game, I thought about this a lot, and not to get ahead of myself, but one of the things I really like about the GHTBL is that they don't use the scoreboard at Ceppa Field. As a society, we are so in touch with our phones and just... easily distracted. Going to see the Yard Goats last Friday, it was so easy to just look at the scoreboard and know what the score was and the inning, but I see that more as a crutch than anything else. To follow these games, to appreciate that excitement and drama of it all, you must be 100% focused on it and I don't think I've ever focused so much of my attention on one thing before.
I can't find a stat for this on the box score, but I feel like there were at least four HBPs in this game, three of them by the Steel. Tensions got high at one point as well. It was getting later, people wanted to go home, and in the 7th the Expos could've won it. At one point, this huge shot went to center field but was lost in the lights. The Expos center fielder said something like "This is why we shouldn't start games at 7". I'm just glad they put the lights on at Ceppa Field.
Now, I thought that the GHTBL could end in a tie, which apparently is not true as this went eight innings, which was more than they normally play and starting at 7pm... this would've been a good game to start at 6, but hindsight is always 20/20. There was also this thing where the home plate umpire kept saying to play, then would get mad when the pitcher would pitch and say that it wasn't time to play yet, and, yeah... the Expos dugout got warned by the infield umpire at one point and that was my first time seeing that in the GHTBL.
Speaking of firsts, I saw my first homerun at Ceppa Field this season. Thank you to Peter Barrows for making that happen, as he hit a three run shot deep to left center. After the game was over, I totally walked out there and found the ball, which I now have in my collection. I'm some kind of museum.
At one point, it looked like the Expos won but the homerun shot went under the center field fence, but with bases loaded and a Will Kszywanos bunt (he had several key hits during the game) the Expos walked it off. This was such a wild game because it felt like the Steel put down the foundation for a win early and it took a while for the Expos to really mount their comeback. This was really a lot of what baseball should be about, with the whole "it's not over until it's over" mentality. I also don't know where Will Musson came from, but he brings the heat. Every fan of baseball should see him pitch at least once in their life.