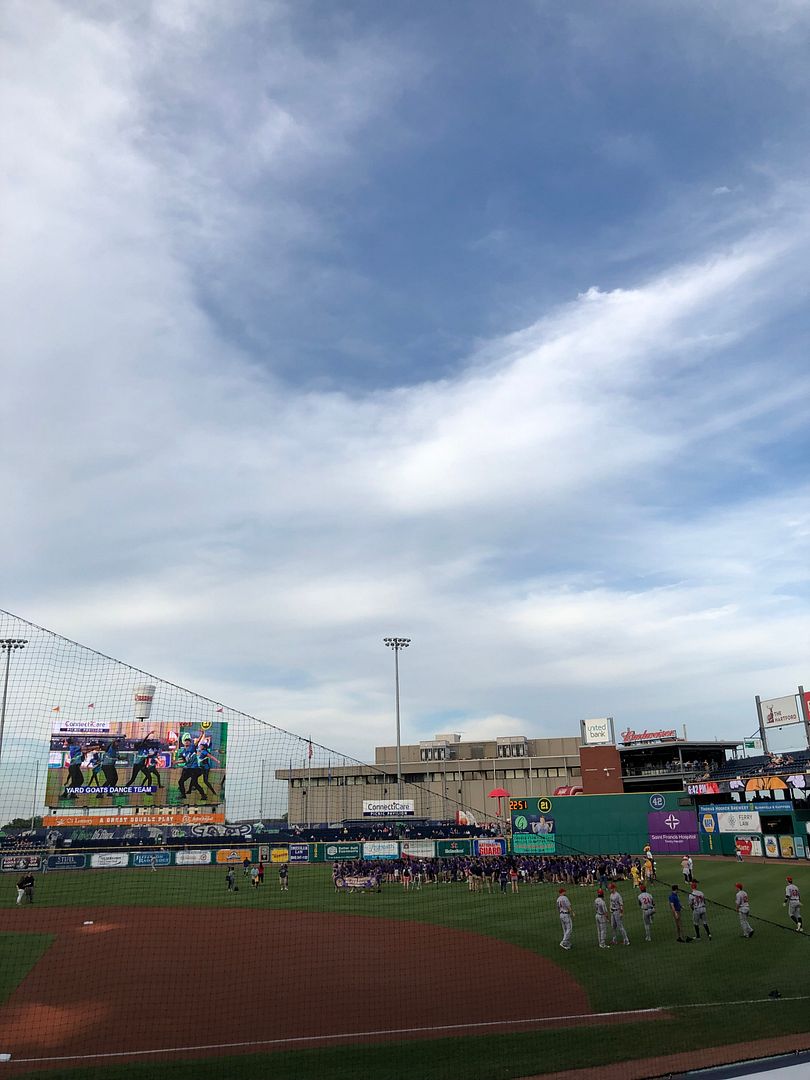 Official Recap :::
http://www.milb.com/milb/stats/stats.jsp?sid=t538&t=g_log&gid=2019_06_07_binaax_hfdaax_1
Photos on Facebook :::
https://www.facebook.com/raisedbycassettes/photos/?tab=album&album_id=2843613129013576
At some point during this baseball season I knew I was going to make it to Dunkin Donuts Park to see the Yard Goats play, I just hadn't figured out when until about two weeks before this game. This was the first chance to see the Binghamton Rumble Ponies this season, here in the CT, so I was thinking it'd be a good plan to see them as an opponent. I also found this cool baseball card on eBay with three top Mets prospects and I was going to try and get it signed at this game by 2/3 of the players because they're both on the Rumble Ponies, but the seller never shipped it and oh well life goes on.
I was hoping to see Anthony Kay pitch for the Rumble Ponies, but alas, it was meant to be the night after and not on this night. Still, we got decent seats behind the first base line and for more money than I told my Dad I had paid. We arrived somewhat early but this made it so that we could park right across the street from DDP for $5, which was nice because the only other time we did this we got there somewhat late and had to walk several blocks to the game (Which is less fun after the fact)
For this game the Yard Goats did one of those things where they have a "What If" night and play as a team that didn't get chosen so they were the "Steamed Cheeseburgers", which just kind of bothers me because technically this counts as seeing the Yard Goats this season but kind of it doesn't since they didn't play as the Yard Goats. Nonetheless, the first thing we did when we got in was have Chew Chew and Chompers- who were both right at the gate to greet fans- take a photo with Quentin, which was pretty awesome.
Now, if this game wasn't sold out it was pretty close to it. Aside from being a beautiful Friday night and this being the Double A affiliate of the Mets, this was in many ways also a battle for first place, which by winning this game, the Yard Goats did capture first place. (See, the Yard Goats took first place, not the Cheeseburgers, so I technically... ehhh, nevermind) After one of the GHTBL games I went to earlier in the week my Dad and I got into this conversation where he said he liked to go to baseball games with big crowds because that made the games more exciting.
For me, for my money, the game is the same if it's in front of five people or five thousand people. The fans shouldn't make the game. Part of me selfishly wishes that the fans were silent during a baseball game, like golf of pro wrestling in Japan, but that will likely never happen. (Side Note: I bet the baseball games in Japan are silent. Yet another reason to move there!) So after being a few rows ahead of many, many screaming children during this game, I must say that I prefer the peace and quiet of a baseball game to the rowdiness of this particular game. It was such a contrast to the GHTBL games earlier in the week, but that's baseball.
Here's something I care about but also don't: Good sportsmanship. During the game, a player for the Rumble Ponies hit a homerun and the big screen played some video mockimg him and then all the kids began to boo. Seriously? I'm not going to tell any fan how to act when they pay money to see something (I'm not RIng of Honor) but I do wish people valued sportsmanship a little bit more. But yeah yeah, it's probably my fault because I don't love the players or the teams so much as I love the game.
This was actually a fun game though, aside from the kids making my head hurt. The two teams were evenly matched and after seeing the Rumble Ponies starting pitcher hit a ground rule double, the Yard Goats pitcher responded with a homerun. That was pretty crazy, right? What are these pitchers being fed in Double A?
In the gift shop, I got this small pin for my camera bag and as bad luck would have it, they had plush mascot toys for Chew Chew but *not* Chompers. How do you not keep Chompers freshly stocked? I am disappoint.
After the game there was launch-a-ball (something I never miss when a game doesn't have it) and then some kids danced like they did before the game and the night finally closed out with fireworks. I'm mostly just surprised Quentin stayed awake the whole time, on his last day of first grade, but this was something we will likely only do once this season unless we participate in that deal with the library for free tickets again come August.