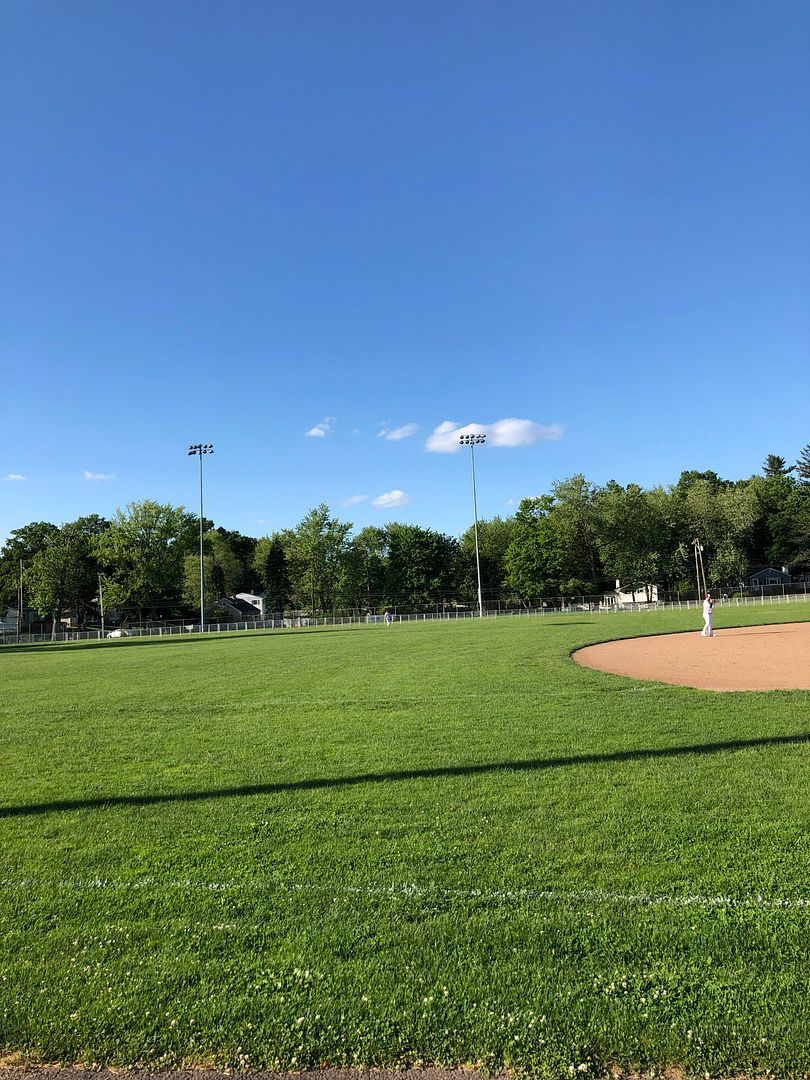 Official Box Score here :::
https://hartfordtwilight.sportngin.com/game/show/25513812
//
More Photos in a Facebook Album here :::
https://www.facebook.com/pg/raisedbycassettes/photos/?tab=album&album_id=2838503926191163
//
I arrived to Ceppa Field right around 6pm and found it to be a fifteen minute walk from me. As I was walking towards the field the team was going towards the outfield, as the first inning had just begun. For my near lifetime spent in Meriden I cannot recall having ever gone to a baseball game at Ceppa FIeld before, but the last time (and only other time) I saw the GHTBL was at Maloney some years ago and this was definitely a step up from that if for nothing but the bleachers.
One of the interesting aspects of this game was that they did not use the scoreboard, something I was planning on based on my last GHTBL game. The players would constantly remind each other of how many outs were there, but if you showed up at 7pm or so you would have to ask someone in the stands or a player what the score was, what inning it was, etc. This was particularly fun for me because I had this notion in my head all the while of "Well, this happened, then this happened" and based on the pitchers as well (Thoughts like "He's pitched two innings of relief already") helped me to conclude "It's got to be the fifth or sixth inning by now"
This isn't a bad thing, but this game also had what I like to call the "wild card" factor in that because of the sun or misjudging something in general, this game had quite a few errors. Several times runners from both teams advanced from first to third on wild pitches or the pitcher trying to check the runner and the ball getting past the first baseman. It's just one of those things where if you hit it high to center you might slowly trot to first thinking it will be caught, but it's not a definite out so you should hustle and that just added this level of play that you don't get in other leagues.
At one point during the game this giant boom was heard- like a cannon shot but probably a transformer blowing. It was heard again a short time later and as third base coach, Hector Gonzalez said "That's two. One more time and we go home" There were some kids behind the bleachers playing and they were shook by it. Later, all of the sirens could be heard so I'm not sure what happened but the firetrucks were called.
This game was mostly tied throughout. I believe it was 1-1 for a while until the Steel scored two runs and made it 3-1. The Expos came back and had it tied up at 3-3. In the top of the 7th the relief pitcher got into a bit of trouble with bases loaded so they brought in Nick Foell who managed to get the strikeouts needed to get them out of the jam. It was a save if I've ever seen one.
In the bottom of the 7th was when the Expos made it back to tie the game and then eventually win, by my count I believe it was 4-3 but I'm typing this on the morning after and won't look for an actual score from the GHTBL website until later so we will see if what I think happened lines up with what actually happened. Also, shoutout to Matt Goldman from the Steel for the ground rule double by hitting it off the left field fence.
There exists a house behind the homeplate / first base side where a lot of pop up foul balls landed in their backyard. It only occurred to me later, as I was leaving and saw it from the street, that house is for sale. So if you want to live where you'll get baseballs in your backyard (or on your roof or maybe break a window) let me know and I'll send you a photo of the realty sign.
Before that while leaving though I noticed a wooden fence which is coupled with a chain link fence that surrounds the house near the parking lot for Ceppa Field. Somehow, one of those foul balls got stuck in between the wood and chain link and, yes, I probably should have taken a picture of it first but I did free that ball from that fence space and take it home as a souvenir from the game because it's just one of those things that I do.