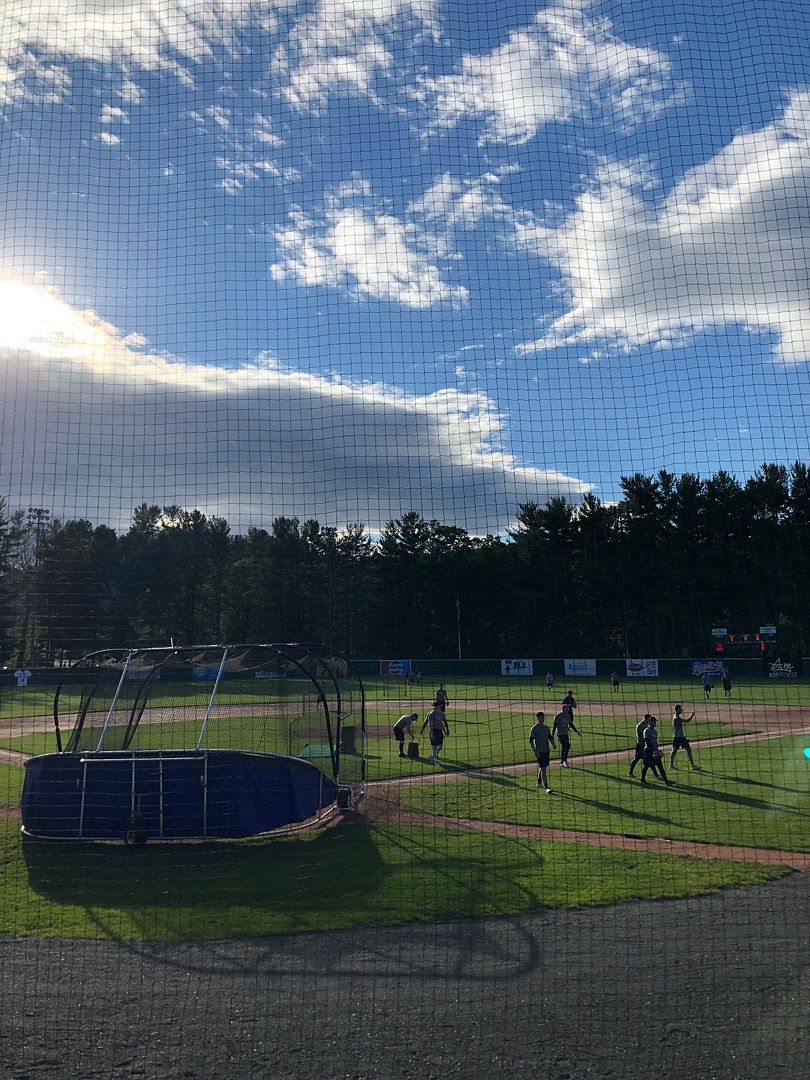 http://bristolbluesbaseball.com/
//
More Photos Can Be Found in a Facebook Album here :::
https://www.facebook.com/pg/raisedbycassettes/photos/?tab=album&album_id=2856660834375472
//
One thing that I've always tried to do with baseball is go to different places to see it being played. It's different, to me, than music because you might have your local club which hosts bands you want to see, and yes there are home teams in baseball, but still, going to different stadiums and fields to see baseball being played is sometimes as much fun as the game itself.
I'd known of Muzzy Field for several years and was finally able to get out there on Friday. Much of what is online about the Bristol Blues is unclear as to what other baseball places tend to do. I saw tickets on their website as a ten pack, but it wasn't until that day I saw on Twitter that tickets were $5 in advance and $6 at the doors. (How do you buy tickets in advance?) I assumed since the game started at 7:05 we'd be able to get in by 6, so we got there around 5:45 and people were already going in.
We had to park behind Muzzy Field, which was nice because the parking is free, but if someone hit a huge homerun it would surely be in a car windshield. Once inside Muzzy Field, we got a program and copy of the Bristol Press for free. My dad bought Quentin a souvenir bat and hot dog because apparently he was hungry. Then we went back to the merch area later on and purchased two hats and a t-shirt for him. Tickets for the three of us to get in were $16 and so I thought "We won't spend a lot" but with food and hats and such we spend four times that once inside. This just supports my theory if baseball didn't charge ticket prices (or kept it $5 and under) they'd make all their money on concessions.
Since we were among the first people in, we wandered around the stadium since we had never been there before. Some combination of New Britain Stadium and Dodd Stadium, I really enjoyed being there in any seat and unless you get into some outer bleachers all seats are behind a net so you don't have to worry about getting hit by a ball so much. This also makes it much more difficult to catch foul balls, but more on that later. Being early though had Quentin doing an on the field game, which was kind of funny because as Quentin ran away from me I saw these two girls following him and knew they were going to talk to him.
In the middle of the first inning Quentin competed against another child in an attempt to see who could put a uniform on first. Quentin had an obvious lead with the pants on, but then the pants fell down, he got stuck in the shirt (which was backwards) and he lost it- which was hilarious. Sometimes, it's not about winning or losing but it's simply about having fun (Which he did)
I always wonder about the actual baseballs teams use and since this is the FCBL I wondered if they had their own balls. It seemed difficult to get one, so Quentin asked an employee to help him out. A short time later, the employer came back with a used one and sure enough, it has the FCBL logo on it. Now I want a brand new one because I think it would look so, so nice.
We also went to this other employee who said they would help Quentin get a foul ball signed. The employee went off and got the bullpen to sign the ball while Quentin played with BB, the mascot. The Bristol Blues also have a mascot named Chunky, who is a tomato and Quentin loves him. I was talking with the employee about the connection between the music and the name and basically... there isn't one. But I did learn that the first player to ever hit a homerun at Muzzy Field was Babe Ruth and that's kind of cool.
After seven innings the Blues were down 9-2. This was the final score and we left because it didn't seem like they were going to come back, it was already after 9:30 and Quentin was getting a little bit cold as well. I want to try and go back to Muzzy Field for the weekend of 4th of July as it's a fun place to be and seeing the Blues win a game would be nice as well. I don't own as many baseball hats as I used to (I had to drastically downsize my collection once upon a time) but having a Bristol Blues one in my collection is a bit of pride for me now.