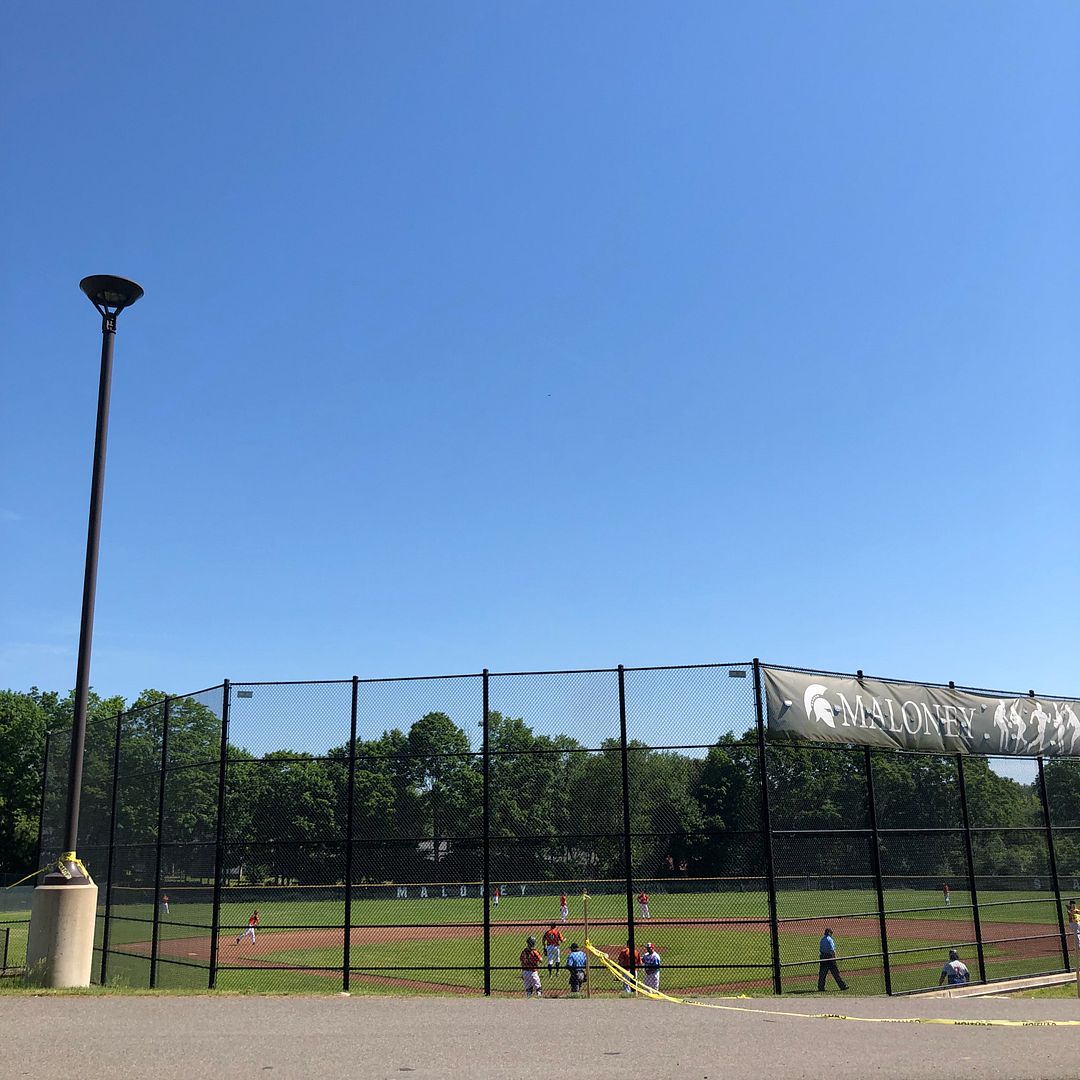 https://www.facebook.com/SilverCityBanditos //

Additional photos can be found here :::
https://www.facebook.com/media/set/?vanity=raisedbycassettes&set=a.5700814593293401

Proving once again that the weather in Connecticut is crazy this doubleheader took place during a heatwave as it was over 90 and had been the day before (and would be for the next few days also) This would also be a factor in my leaving after the first game and not returning but more on that later. I tried to go to my normal spot near third base when I first got to Maloney but it was far too hot just standing there and for some reason along that fence there are a lot of tiny red spiders and I had to wash them out of everything I brought with me last time I was there. So I went near the school itself to get some shade and went behind home plate to take photos for the most part because I was trying my best (and failing) to stay cool.
The first game had all of the offense that I know the Banditos team is capable of combined with the stellar pitching of JD Tyler. Just within the first inning there were two triples and the Banditos put up four runs. During the top of the second inning a ball was dropped in the infield to score another run and in the third inning Justin Poirier hit a huge three run homerun as part of a five run inning for the Banditos. After the homerun and a walk the Navigators went into a pitching change and I told my uncle it's because they weren't trying to win, they were just trying to end the game.
In the fourth inning the Navigators put up the first of their two runs but it wasn't enough as everything about the Banditos team was on point. My uncle insists that there is a ten run after five innings mercy rule in the CNMSBL and that the one run put up in the fourth kept us from an early ending. I'm just wondering how that rule makes sense though because if it's the fifth inning then it cuts off two innings- six outs. So the idea that a team can come back from 10 runs in two innings seems impossible and yet coming back from nine runs... ehhh... let's give them a shot. But I know you have to cut it off somewhere and, yes, I've seen teams come back who are down eight runs before.
Between this day and the day before it was not only hot but my allergies were killing me. I'm constantly on allergy medication but I've seen a lot of pollen and such flying around lately like its snowing. I got this whole nasal thing going on, and I knew I had to go home for more water anyway, so I took a nasal decongestant then tried to cool down a little bit and before I knew it I woke up and it was 5:30! Often times I feel like it isn't easy to stay outside for two games in the heat and I don't know how the players do it in their uniforms but I wasn't even as bothered by the heat as I was by my allergies, which I am finally recovering from now thanks to numerous medications.
The Banditos won the second game 16-5 and that puts them in an interesting position. The majority of the rest of their season will be played at Maloney with the Cardinals, Riverrats, A's and Fighting Irish on deck. The Banditos currently have a record of 8-3 while the Cardinals sit in front of them at 9-3, so that match up this Sunday is really going to be something you have to see (and both games) If they split the doubleheader, nothing really changes, but if the Banditos can win both games they move into second place by themselves.
Of course the A's are in first place right now with an 11-1 record but let's not forget that the Banditos are the 1 in 11-1. I feel like those three losses that the Banditos got were early on in the season and they're not the same team then that they are now. They're improving. They're finding their groove. And through the rest of this season it is still any team's ball game, really, with fourteen more games to go and the teams really starting to heat up.