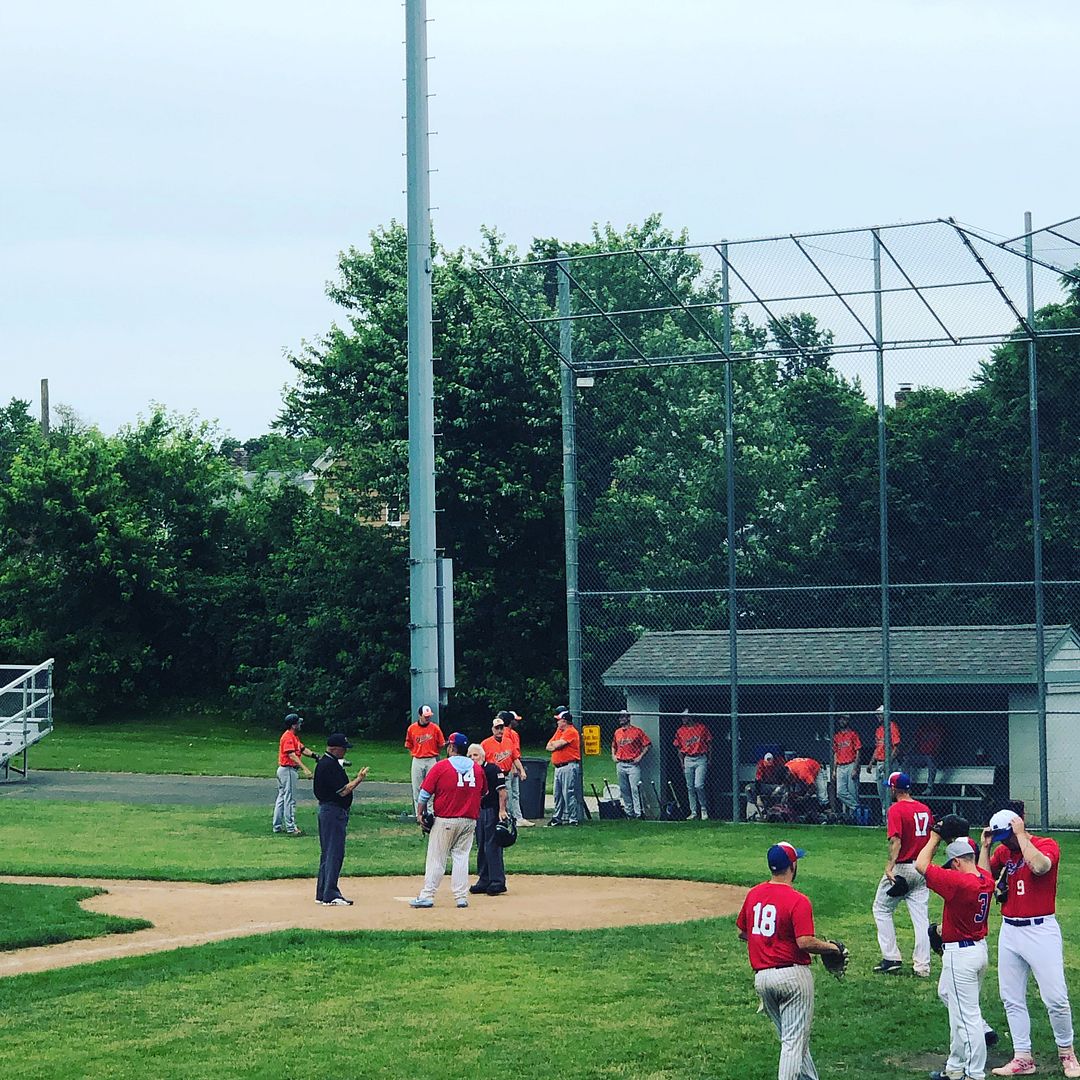 Additional photos can be found on Facebook here :::
https://www.facebook.com/media/set/?vanity=raisedbycassettes&set=a.5768391646535695

As the Record-Journal Expos began to find their groove, they were faced with their toughest opponents of the season: the undefeated Vernon Orioles. The Orioles have long been a team who have had a modest record but don't always finish in first place and yet still go on to win the championship in the playoffs. The Orioles are also the one team in the league everyone other than Orioles' fans seems to dislike, perhaps because of their attitude.
This was my first time seeing the Orioles this season but on paper (the GHTBL website) their roster looked fairly similar to what it has in years past, so I expected them to be that same championship level team here. I will say though that Mike Matthews was the starting pitcher for the Orioles and I'm not sure if he was on their team last year or not but he definitely isn't one of their pitchers who I recognize by name.
After an inning and a half there was no score and with Charlie Hesseltine on the mound for the Expos this seemed like it could become a tough game for either team to score in. Then, in the bottom of the second inning, Owen Papciak hits a double to drive in the first run of the game. The third inning is where things fell apart for the Orioles. A HBP and two BBs loaded up the bases and then on a pitch that went by the catcher, Jonanthan Walter (who was HBP) scored.
Following yet another BB, Sebby Grignano would walk over homeplate. With bases loaded, Kameron Hartenstein would single to drive in two more runs. Will Kszywanos would hit into a double play, but another run would score putting the Expos up 6-0 after just three innings. The defense and pitching of the Expos seemed to shut the Orioles down offensively. The top of the fourth saw two batters strike out at the pitching of Charlie Hesseltine.
During the bottom of the fourth inning, there were two BBs and then a double by Kyle Hartenstein drove in a run. Jay Sullivan hit a single to bring in Sebby Grignano (who seems to walk more often than not this season) and a sac fly by Jack Rich would ultimately score Kyle Hartenstein to give the Expos a 9-0 lead after four innings. Mike Matthews would somehow give up nine runs with six walks and two HBPs. This felt like a matter of the Orioles loading up the bases for the Expos and then the Expos just driving them home, but again, runs were walked in.
In the fifth inning each team would plate just one run and that would keep the score at 10-1 when the game came to its end. One of the reasons, perhaps, why the Orioles are so unlikeable is because after a called third strike to Ian Halpin in the sixth inning he began loudly arguing with the umpire. The Orioles manager also then began arguing from the dugout.
I get it. You're down nine runs. You're frustrated. But you're down to your last handful of outs and it isn't likely that within the time given to you that you will be able to make up for what you've already lost. You know you're going down, go down with some dignity. If it was a tie game, sure, argue and yell. If it was a close game maybe vent your frustrations as well. But what would this really change when you're already losing so badly? If the manager gets thrown out with only an inning left to play, you still lose.
Fun Fact: I have only ever seen two people thrown out of games in the GHTBL and one of them was the Orioles manager.
What bothered me about this game for the Orioles is that it made it seem as if they didn't care if they won or lost. At some point (maybe when they were down six runs) they just seemed to give up and accept defeat. I wondered why the starting pitcher was allowed to give up so many runs (with walks and HBPs) and not be pulled. They had other players there available to pitch. I thought maybe they wanted him to pitch enough innings to be able to qualify for the playoffs, but if this is how he's going to pitch in the playoffs what good will it do?
The whole game felt surreal as well, as I knew going into it that the Orioles were undefeated and this seemed like such a strange way for them to take their first loss: they weren't just losing, they were going down hard. I believe that the season games should be taken seriously though and not as practice for the playoffs. I would have liked to see the Orioles put up more of a fight, but perhaps they just couldn't.