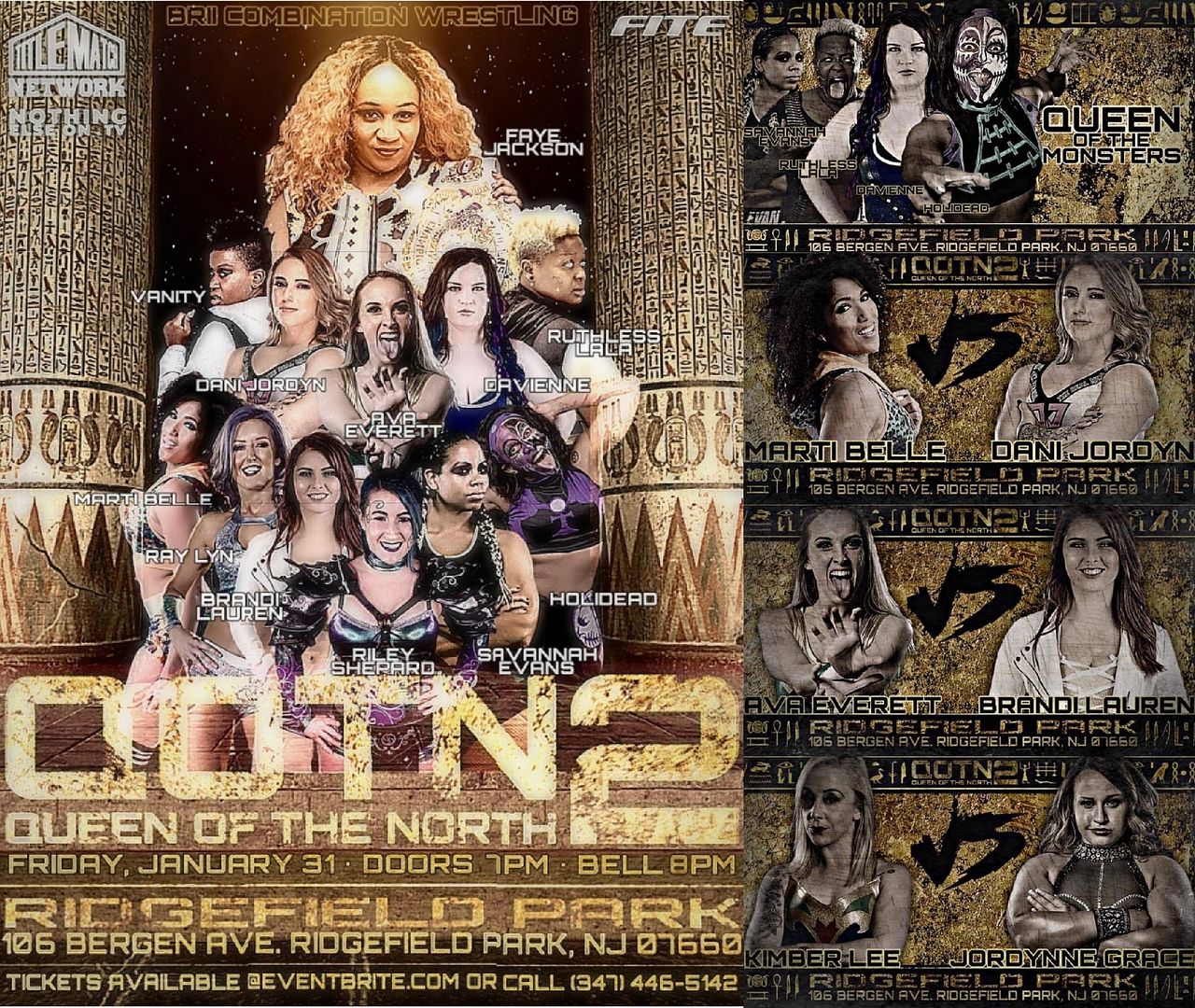 Additional Photos Can Be Found in a Facebook Album here :::
When my sister turned 40, she got some friends, co-workers and family together to celebrate in what was one of the biggest parties of our adult lives. For me, there was no better way to celebrate turning 40 than by going to see live professional wrestling and when I found out about this BCW show being themed around women I knew I had to be there. To be quite fair, I watch a lot of wrestling promotions primarily to see the women (Such as how I watched the first two episodes of NWA "Powerrr", gave up, but came back when I saw Tasha Steelz was on it) so having a show with all women is something I would go to but for it to be on my birthday it felt like someone was reading my mind.
This show had what I consider to be the perfect mix of wrestlers I knew, wrestlers I wanted to see and hadn't yet, and wrestlers I hadn't heard of before. Before I get too far into these words though, let me just say that everyone on this show- everyone- is a natural born star. I would recommend following them all on socials and going out of your way to see them whether it be live or on the internets.
Google Maps told us it would take about two hours to get to this venue and I had a lot of anxiety for the weeks leading up to it because I feared we'd get stuck in traffic and arrive late. We made really good time though (especially getting out of CT) as I listened to the album "Some Nights" by fun. and then later on "Where You Want To Be" by Taking Back Sunday. We made one bathroom stop, found the Knights of Columbus fairly easily and got there before doors with enough time to wait outside for a little bit.
Sometimes it's the little things, but with everything being digital now it was nice for the woman who let us in to give us paper tickets as well. It makes for a nice souvenir and reminder of the fun time you had at the show (Unless you just left yours on your chair, like some people did) and I wish everyone would do it, don't fault them because they don't but have to point it out when I see it.
There was merch set up before the show but not really anyone there selling it so we basically stayed in our seats as Quentin ate snacks waiting for the show to start. I feel like I'm going to forget something so if I jump around a lot I apologize in advance. The show opened with talking, which had me thinking like "Oh good, everyone is coming out to talk" and I was not really hyped for it. Faye Jackson (who is the champ here) announced she isn't cleared to compete, so even though she's on my list of "Top 10 to See Live in 2020" and she was technically there I'm not crossing her off until I see her in ring gear.
Without going into too much detail about this, I feel like I'm one of those people that can be emotional and that's okay, but it's always at the strangest and most random of times. If I'm in a situation that is seriously sad, like a funeral, and the social norm is to cry, I feel empty inside. If I'm doing something where maybe I'm not supposed to cry or feel so emotionally invested, I feel like I want to cry. That being said, all the talking ended with the BCW Heavyweight Champion Darius Carter and Riley Shepard in this pull apart brawl which had me fighting back tears because I just hadn't seen something so intense since- if I'm being honest- the days of Shawn Michaels and Bret Hart.
So even though I started the night thinking "Ugh, talking", it all ended up being worth it and I became hugely emotionally invested in the story right then and there, which as a fan was very important as well. In ring action is good, but it's so much better when you're emotionally invested in and I think that's what I love most about professional wrestling.
The matches throughout the night ended up being for the Women's Title where they all fought at the end in a big five way and you can likely stream this somewhere (I will buy this on demand, blu-ray, etc for sure to watch again) so I don't feel like those details are as important as what happened in regards to Quentin and myself throughout the course of the show.
It was amazing to see Marti Belle live, as I've followed her since before she was in TNA really- back when I was into wrestling more- and I enjoy seeing her in NWA now. This was one of those shows where it brought wrestlers in from various promotions to create a supershow of sorts. And Marti Belle fought Dani Jordan, who I was seeing for the first time but was aware of due to Twitter, so it was a nice introduction to see her and if you put Dani Jordan on a card near me I'll try my best to be there. She has this "Mean Girls" gimmick and it just works. Plus she can just go.
In an unadvertised match Rae Lyn defeated Vicious Vicki and it was one of those things where I feel like people were cheering for Rae Lyn because they knew who she was but maybe Vicki was supposed to be the face. So I feel like people were treating Vicki like the heel even though she was trying to portray the face but, yes, I would definitely go see Vicki wrestle again as well. She had such a great showing in this match.
What some could call the match of the night (Though they all were in their own ways) Brandi Lauren defeated Ava Everett to go to the final match. I've seen Ava Everett a lot and her being on this show was one of my reasons for going to it, but this was my first time seeing Brandi Lauren (who I later learned is also in EVOLVE) and she was quite impressive. She has the look and in ring ability where I don't expect her to be not in WWE or AEW for much longer. Brandi Lauren is literally like looking at the future of wrestling and the future looks good.
This took us into a fourway match which was a Queen of the Monsters brawl and it featured Ruthless La La (who I'd never heard of but she really impressed me), Savannah Evans (who I also had never heard of before but is apparently everywhere), Holidead (who I've never seen but wanted to see so she was a factor in me going to this show) and Davienne (who is currently my favorite wrestler) At one point during this match, Davienne rolled outside of the ring in front of us and I asked her how she was doing and if she wanted to sit and so she took an empty chair next to Quentin, which was great.
We were maybe four seats away from when a fan got kicked in the head by Holidead and my favorite part was afterwards Holidead walked past me and I said "You killed that guy" and she responded "I didn't do anything". Ruthless La La also put Davienne through a door (I was legit concerned for Davienne after that) and I made Quentin picked up a small piece of the broken door, about the size of my thumb, which we now have as a memento as well. (These are the things I value and you can't buy them at Walmart)
This took us into intermission, which is often when the real stories start. We first found Ava Everett and Davienne outside of the ring with their merch so we talked to them for a little bit. It's so weird to think we hadn't seen them since Quentin's birthday and now we're seeing them again on my birthday. There were tables lined up against the wall and you could kind of make your way through in a line but we jumped around a bit because rules are for idiots (*copyright Tony Deppen) and outside of the tables we found Faye Jackson first. We took pictures and talked with her and she's super nice. Again, the next time we see her I hope it is when she is back in the ring.
We went over to Marti Belle first in the tables line and took photos with her. She was really nice as well and I don't know why I didn't expect her to be (I thought she'd be less social) but she just has such huge energy and it was so rad. But more on her in a minute... We went to the next spot for Holidead, who had this plush keychain Quentin had seen before and wanted. I told him if he wanted it he had to take a photo with Holidead because prior to the show I asked him if he would take a photo with her and he said he was scared (I also told all of this to Holidead, who was extremely nice but a little scary) So Quentin faced a little bit of his fears and took a photo with Holidead, who I also hope to see again one day soon (I feel like I'll keep typing that because I want to see all of these women wrestle every weekend)
Though we had to wait a little bit, we went from Holidead to Riley Shepard. Quentin broke his normal glasses, so he's wearing his backup pair which are purple so of course everyone had to comment how much they love them because there was a rather purple theme to the evening. Riley Shepard also has purple hair and in that opening segment just sold me more on a match than maybe anyone has in the last twenty years. Riley Shepard also has these foam swords for sale and of course Quentin wanted one. I also bought a trading card from Riley Shepard because I'm a sucker for trading cards. Apparently, if you have odd merch (outside of the t-shirt and 8x10) I will also buy that. So just have something for sale I haven't really seen before and if it's cool you'll get my money.
Going out of line (and having intermission last longer than ten minutes) we backtracked to the beginning of the tables line to meet Brandi Lauren. I bought an 8x10 of her, which I later realized was Halloween themed, and when I was talking with her about it she asked who to make it out to. I was going to say Quentin but he had gone back to our seats to put stuff down, so I said something like "Why not me? It's my birthday" Marti Belle was seated next to Brandi Lauren and was like "It's your birthday? OMG Happy Birthday!!" and yeah. She's the nicest.
Quentin took a picture with Brandi Lauren where she picked him up. I then took a picture with Dani Jordan, where she just looked like every other woman who has ever had to take a picture with me, and I bought a Dani Jordan sticker because I felt like I wanted a piece of merchandise from everyone but there wasn't enough time (Again, why we should do this every weekend, so I could go back and do this all again but with Savannah Evans, Ruthless La La, Rae Lyn, Vicious Vicki, Vanity... whoa, so many talented women)
After intermission we went into the three main events. First was Jordynne Grace versus Kimber Lee, which Kimber Lee won with a cheap rollup. On my "Top 10 Wrestlers to See in 2020" list is Jordynne Grace so I am at least pleased I got to see her live for the first time and on my birthday. What a crazy life. I won't complain about neither of these women selling merch though because, well, see the ending of the previous paragraph. There were so many talented women there it was overwhelming in the best possible way.
This took us into our co-main event in which two funny things happened. First off, Quentin was really invested in this match and I completely thought we were going to see a new champion. At one point, someone behind us yelled something like "Get the fuck away from her!" to try and protect Riley Shepard and Quentin just parroted it-- he said the same thing. The woman sitting next to us made this priceless face and... I don't know. This was the first time Quentin said the word "fuck" and we talked afterwards about why you don't say it in school, but yeah, pretty much since he's been in school he's been in speech therapy so the fact that what he said was so clear made me weirdly happy.
Now Darius Carter is a true heel in the sense that he's not someone who is supposed to be booed but is trying to act cool still so he gets some cheers. He's a true heel in the sense that he gets massive heat. He's just booed and jeered like no one else. At one point, he took a chair from under the ring to try and re-injure the knee of Riley Shepard. This was right in front of us, so as he kind of has it to his side and back, holding it with one hand, Quentin grabbed the other side of it. This was so perfect because a) he's not touching a wrestler (he's touching a chair) and b) Darius Carter just stared him down because what could he do to a kid? Eventually, after a staring contest that Darius Carter LOST, he was able to kind of pull the chair away and go into the ring with it though. There was also a woman who came from behind us and vowed to protect Quentin which was awesome.
The main event-main event had five women enter and Vanity won it to become the new champion, which was such a great moment. On her way to the ring though, while running around outside slapping hands, Marti Belle said "Happy Birthday" to me and that really made my day. Vanity has this look where she's intimidating and not because she's a heel (because we cheered her) but because she's just built like a powerhouse. I recently got into it with a Twitter troll (I know, I know) who said that there was no way any woman could ever beat up a man and Vanity just has that look of... I wouldn't want to be on the opposite side of the ring from her (Though that's probably true of everyone on this show)
I love, love, LOVE that this show felt like so much of seeing friends I already knew, seeing friends I wanted to finally meet and making new friends. It was everything I could have possibly asked for in a wrestling show and more. It was the best possible way I could have ever spent my birthday- I don't think I'll be able to top it. And if you are reading this, wherever you are, when Queen of the North 3 happens around a year from now (I assume), book your flights because it's one of those rare occasions where if they did it in a place where I couldn't drive I would absolutely fly to it.