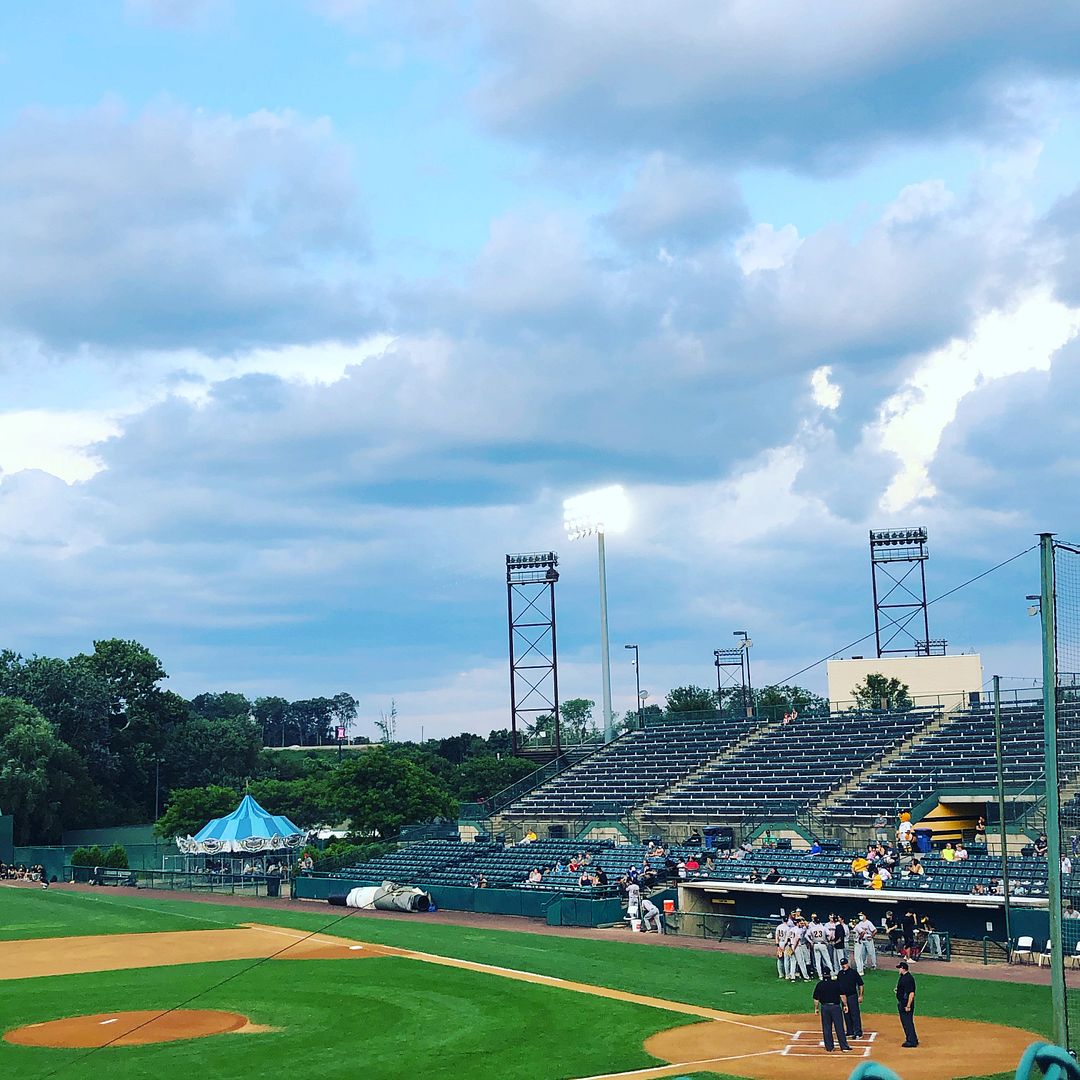 http://nbbees.com/
http://baseball.pointstreak.com/boxscore.html?gameid=532082
Additional photos can be found here :::
https://www.facebook.com/pg/raisedbycassettes/photos/?tab=album&album_id=4272821876092687
This was our second time at New Britain Stadium this season to see the New Britain Bees who shifted from the Atlantic League to the Futures League in the offseason. For these games you must w
ear a mask when not in your seats and when seated you must be socially distanced so that you are not within six feet of people who are not in your party. This means that the stadium can only operate at 25% capacity, which is bad for them, but the fact that people can't get too close to me is something that I enjoy.
People pretty much adhered to the mask policy throughout the game, though I did see some people not pulling it up over their noses. When we first got to New Britain Stadium, before the gates opened, there was an employee there talking with someone who was trying to come in and that employee had their mask down over their chin to I guess help the conversation. Luckily, that particular employee disappeared and didn't let us in but also was not seen for the rest of the night.
Pro Tip: When you print your tickets at home, the employees barely glance at them. They don't even scan them. So, in theory, you could just buy one ticket, print it out as many times as you want, and bring everyone in your party in with that same ticket. I'm not going to be the one to try it, but it certainly felt like the way they had the "ticket takers" set up you could abuse the policy if you really wanted.
On the subject of abusing the system, with the tornado that hit last Tuesday, much of the outfield wall was destroyed. This has left a big hole near left field which people who are not inside New Britain Stadium can see through. I believe there is a park or something back there and at one point there was some guy standing out there watching a lot of the game. You will find him in my pictures under "can't afford $7 for a game guy" and I wouldn't normally take a photo and post it but he also wasn't wearing a mask and was rather close to the Worcester bullpen.
There were a lot of fans in attendance and some of them were rowdy. One guy across the field near the first base side (we sat on the third base side) was yelling and reminded me of Big Callux, which was great. One aspect of this game which did bother me was the kids there. I have nothing against kids and I think kids should be at baseball games because too many kids these days don't like baseball and if the kids don't like baseball then eventually it could die out in future generations.
However, this one group of kids wanted to collect as many balls as they could and seemed to make the game more about that than the action on the field. They were behind us at one point screaming in between innings at the Bravehearts "Ball! Ball! Give us a ball!" which was rather obnoxious. They made their way down to the third base line later in the game and as the Bravehearts were leaving the field the kids again tried to bully them into giving them a ball- which the players didn't- and that lead to the kids taunting the players, saying "You suck! That's why we're Bees fans!"
Perhaps they should have tried badgering the Bees players for free baseballs that the players are under no obligation to give them. All I know is, I was taught to act better than that and you think that some sort of adult would have been with these children and taught them better as well, but alas, we could likely just chalk it up to kids having fun and kids being kids, though I've never quite seen it at this level before.
The game itself (Whoa, there was a game?) was a lot of fun. The Bees put up three runs right away and then it became a story of the Bravehearts trying to catch them. The first three runs by the Bravehearts were all homeruns, two of which were hit by Ben McNeill. There were some questionable plays in this game and some errors where players dropped balls they should have caught, but overall it was competitive and the players seemed to have a firm grasp of the game, showing why I will watch baseball at a college level but not a high school one.
This game came right down to the end. There were two outs. Two runners on. One was walked, the other was HBP. Todd Petersen had a full count. Bravehearts up 5-4. And Todd Petersen just blasted a shot to left field that was all the way outta here. You really couldn't have asked for a better way to walk off this game and it felt like such a storybook ending.