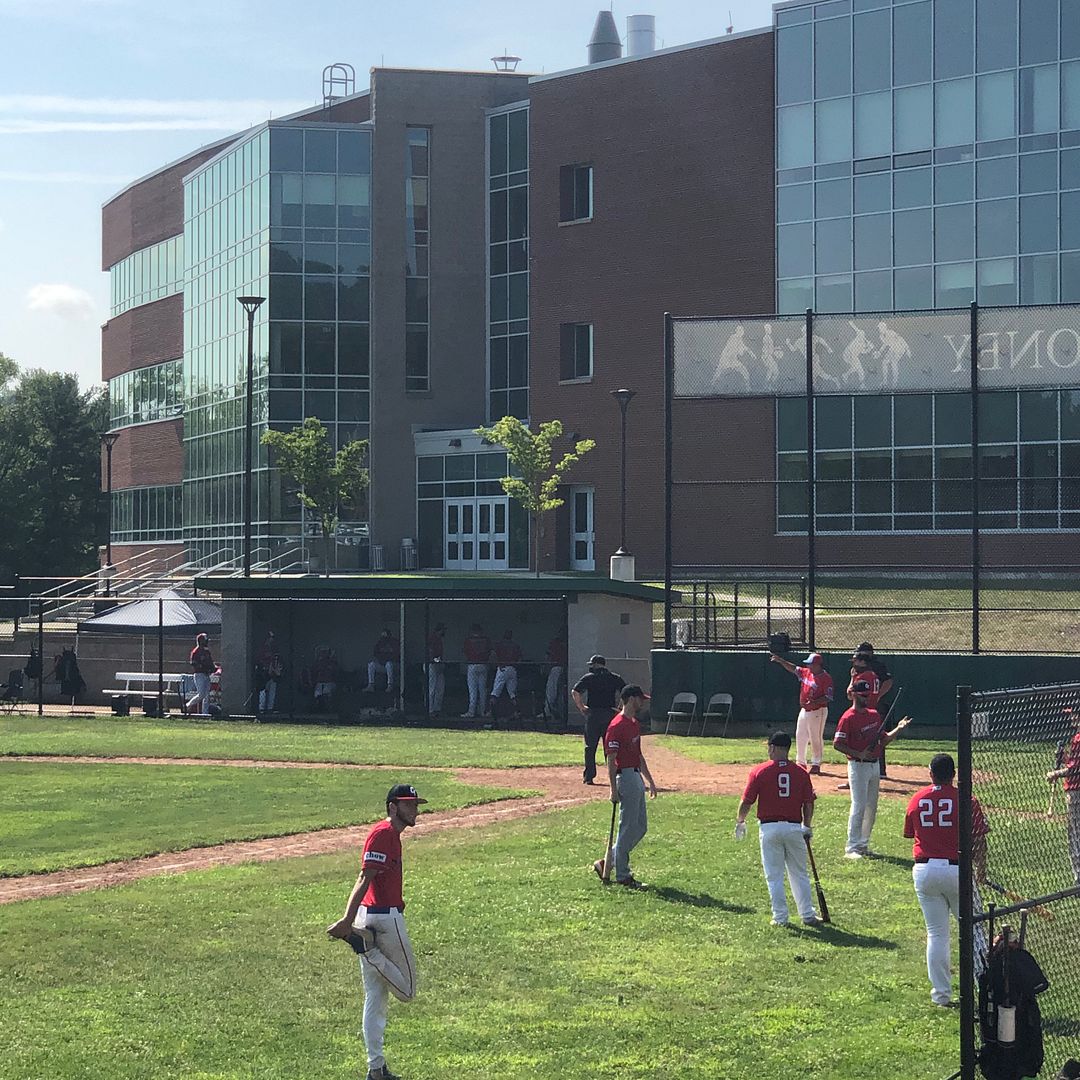 https://www.nutmegstatebaseball.org/
https://www.facebook.com/SilverCityBanditos/
Additional photos can be found here :::
https://www.facebook.com/pg/raisedbycassettes/photos/?tab=album&album_id=4268068743234667
After a week off for a bye, the Banditos returned to action this weekend. It's odd but last Sunday was stormy/rainy and had the Banditos played the game would have likely been stopped around noon or 1 pm and I didn't get to go to any baseball last Sunday because of the weather. It was nice to back outside and busy since if I'm not at baseball I don't seem to know how to spend my time properly.
The Connecticut Express is a .500 team going into this game and giving the Banditos their first loss of the season they remain a .500 team. The first inning of this game saw Banditos pitcher J.D. Tyler strike out the side and then the Banditos would put up two runs. This would be the only time that the Banditos could score during this game. It felt like a bit like a pitching duel, as most games tend to be when there are great pitchers on the mound, and I'm not sure who the pitcher for the Express was (He was wearing number 11) but he seemed to really settle in after the first inning.
In the top of the third inning the Express executed a play which I seem to be seeing a lot lately and it must have a name but with runners on first and third they were able to score by the first base runner stealing second, which once the throw went from the catcher to second the runner on third came home. I would just let the runner have second base and not throw- to keep the run from scoring- but if there are two outs (as there were in this scenario) you would want to throw to second to get that final out.
This game became such a stalemate that it went for eight innings. Throughout the game I was telling my uncle that I think number 11 for the Express was an MLB ringer who played for the Marlins. When the Express changed pitchers and brought in number 20, my uncle got confused thinking it was the same pitcher on the mound. "Eleven was pitching, that's twenty", I told him. He said "Oh yeah, there's the other pitcher", pointing to the dugout. I told him, no, that was number 10. Their pitcher before was 11. He said "Well then where did 11 go?" and I told him "Back to the Marlins!" for a cheap laugh.
The first game was a tough loss but it took an extra inning and one of the best pitchers I've ever seen the Banditos face to do it. I joked with my uncle that maybe the Express was 3-3 because all of the games this guy pitched- number 11- they won and all of the other games they lost because they didn't have another great pitcher like him. I also left in between games to get more water and charge a camera battery. I somehow left right around noon, came back ten minutes later and the Banditos were on the field!
So my score for the second game can be updated later if needed, but I didn't see the top of the first inning. In the second inning though, the Express ended it with one of their runners on third base trying to steal home with two outs. If anyone can explain to me how that play was a good idea I'm all ears. I know if it was successful it would have been good, but what are the odds? ("60% of the time, it works every time" - Brian Fantana) It took until the fourth inning for me to see either team score and each of them put up a run.
In the bottom of the third inning Jason Sullivan made a great double play, catching the ball and then throwing to first to pick off the runner. The inning would end with Justin Kolesar delivering that backwards K.
The fourth inning felt mirrored by both teams and not just because they each scored a run. Ray Thayer hit a deep shot that dropped in left center for a double and would eventually score. The Express started their fourth inning with a similar shot out there for a double. There were many points in these two games where the teams just felt so evenly matched and it would be great to see them play again, maybe get a little redemption for that first loss.
The top of the fifth rally saw Ray Thayer- who was hands down player of the game- clear the bases with a shot that got lost in that left field corner for a double. They would eventually plate four and even though the Express would score two more in the bottom of the seventh it wasn't enough to walk it off. It is also worth noting the impressive outing by Justin Kolesar, who stayed in for a complete game and is really coming into his own as a threatening pitcher.
The thing that no one wants to tell you about winning streaks and being undefeated is how statistically improbable it is. In the law of averages, it seems unlikely that a team would be able to sweep a double header much less do it for three weeks straight. But I feel like there is also a certain amount of pressure that comes with being undefeated and taking that strain off can sometimes make you play better. The best from the Banditos might be yet to come, which for their opponents could be quite scary.