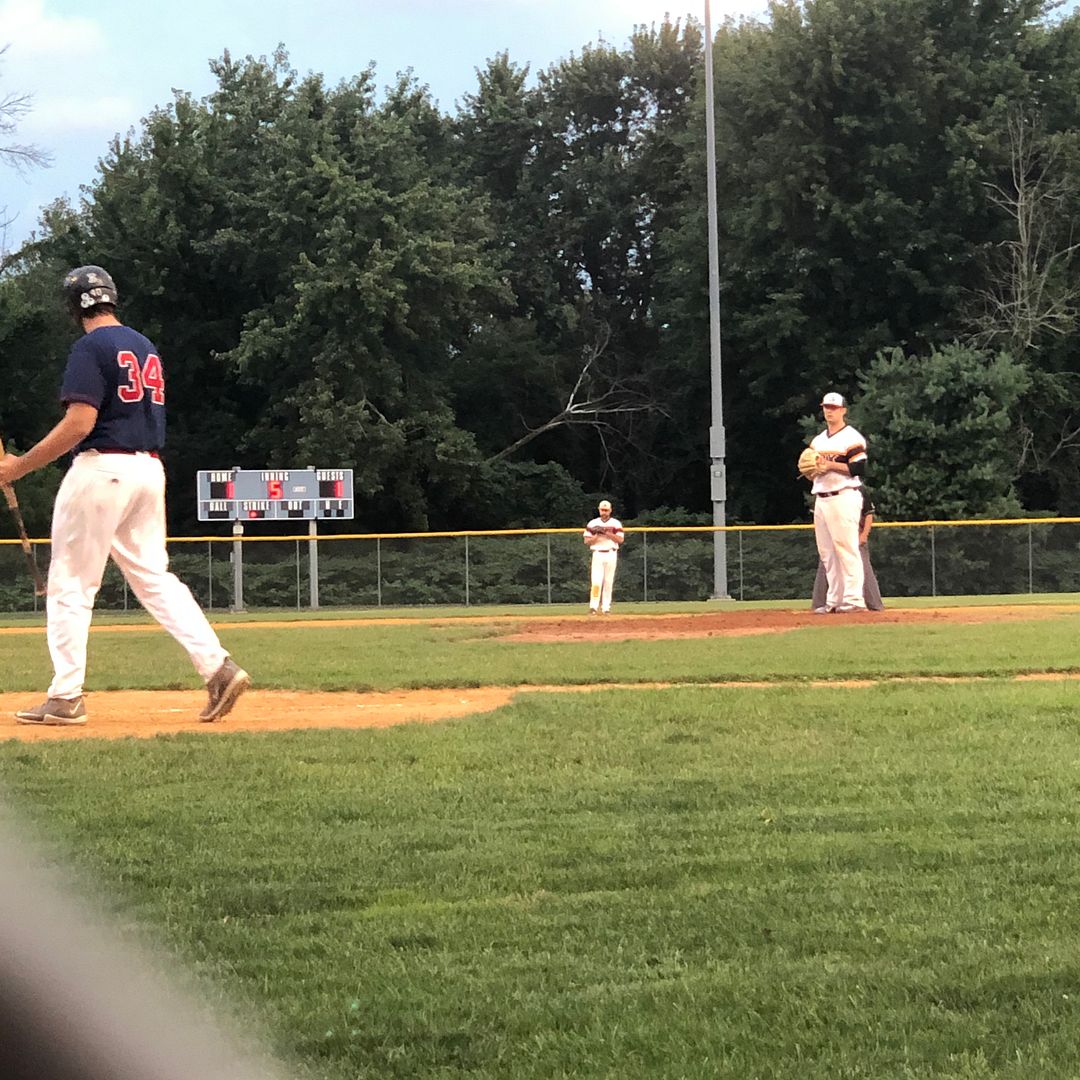 Additional photos can be found here:
When you're going into games knowing your top four teams are playing each other, you know those games are going to be good.

There is an expectation in a way, you're thinking "These are the top two teams—this game has to be good".

Even the Great Falls Gators vs. Fat Orange Cat Brewers matchup was the third and fourth place teams, so you could feel like that one was a big deal as well.

However, I don't think any amount of pressure or hype or expectations could have prepared me for the game between the Indians and Black Sox.
Right away, in the first inning, after walking a runner on, Indians' Will Ramos hit a double to center that would put them up 1-0.

The Black Sox would start the first inning with two strikeouts because the Indians had Anthony Alicki on the mound and this was his game.

His pitching throughout the night did not give up a single inch to the Black Sox, who you could tell were just itching to take advantage of anything they could to score.
In the bottom of the second inning, the Black Sox managed to score a run and tie the game however it came with a price.

Black Sox player 00 went headfirst into home plate and as we were seated behind that area all we heard him say was that his shoulder popped out.

After some tending to on the field, he was taken out of the game and eventually went to the ER with a dislocated shoulder.

The Black Sox had tied the game, but at what cost?
This game was a stalemate of great defensive plays and stellar pitching.

The third inning ended on an attempted steal by the Black Sox, which raises my eternal question of why is anyone stealing with two outs?

During the fourth inning we felt a light rain, but it wasn't enough to matter and it went away soon enough.
After the Indians scored their second run, the Black Sox were facing their last six outs and with a throw which went past the first baseman a run was able to score, which tied the game at two.

These were the little mistakes, the little things which happened, which allowed the Black Sox to score because when it came to their offense and hitting they were virtually shut down.
To add some insult to injury, the last out of the seventh inning was a strikeout, which after being in all of this time was still impressive to see from Anthony Alicki.

While the pitching of the Black Sox was effective, one thing which bothered me about it was that they would have a situation where two runners were on and they would walk someone and load the bases instead of pitching to them.

I understand they might have a plan in place by doing this, but isn't the object of the game not to put runners on bases?
This would end up being the downfall for the Black Sox, as the third and final, winning run for the Indians was walked in with bases loaded.

Whatever your strategy is where you think intentionally walking someone to load the bases is good, perhaps this will make you rethink it.

The Indians got three fairly easy outs in the bottom of the 8th, which ended the game and sealed their fate.

Where Quentin had us sit we were kind of on the Black Sox side, but there was no team in this which you wanted to see win or lose going in so much as you went to this game to see great baseball and it more than delivered what you ever could have expected.

This game truly went above and beyond any expectation I had for a first place vs. second place game of baseball.
While the Black Sox were the first place team and you might expect them to score twelve runs, the fact is that the Indians are the second place team and they didn't score twelve runs either.

This was such a close game by every account of it, every step of the way just felt so important and it really came down right to the end.

Were there bad umpire calls in terms of balls and strikes?

Sure, but that's everywhere and it worked against both teams.

When you have the ump out of position, that's going to happen.

So you accept it and still play your best.

And this was one of the single best games of baseball I've ever seen—few come to mind which have been better (I can only think of one offhand right now)
During the second game, the Gators and Brewers both faced elimination.

The Indians set the tone for defeating the team ranked above them, but the Gators weren't going to go down so easily.

We had moved over to the Gators side- near third base- and Quentin seemed to be getting tired.

The game was moving fast though with a lot of great pitching and defense.
In the third inning after a HBP and BB, Willy Yahn hit a shot which brought in a run as the Brewers threw to home but it wasn't in time.

This felt like it was going to stay 1-0 for quite some time and in ways it was like the game before it as you're watching two teams of equal skill play each other—it's like they know each other's moves before they do them.
Quentin originally said he wanted to stay for the whole game just no extra innings but as it got later I could tell he was getting tired.

It also began to start raining, so after the fourth inning we had to call it a night and head home.

Thanks to the Connecticut Twilight League Instagram though, I learned that the Gators were able to defeat the Brewers 2-0, which means we only missed the second run they put up.
Avoiding elimination means that the Gators play tonight at Muzzy Field against the Terryville Black Sox.

Whoever wins that game will play on Wednesday against the Indians in a best of three series- two games on Wednesday and a third on Thursday if needed.

Any combination of the Gators vs. Indians or Black Sox vs. Indians is going to make for some great baseball, but we definitely have to be rooting for the Gators.