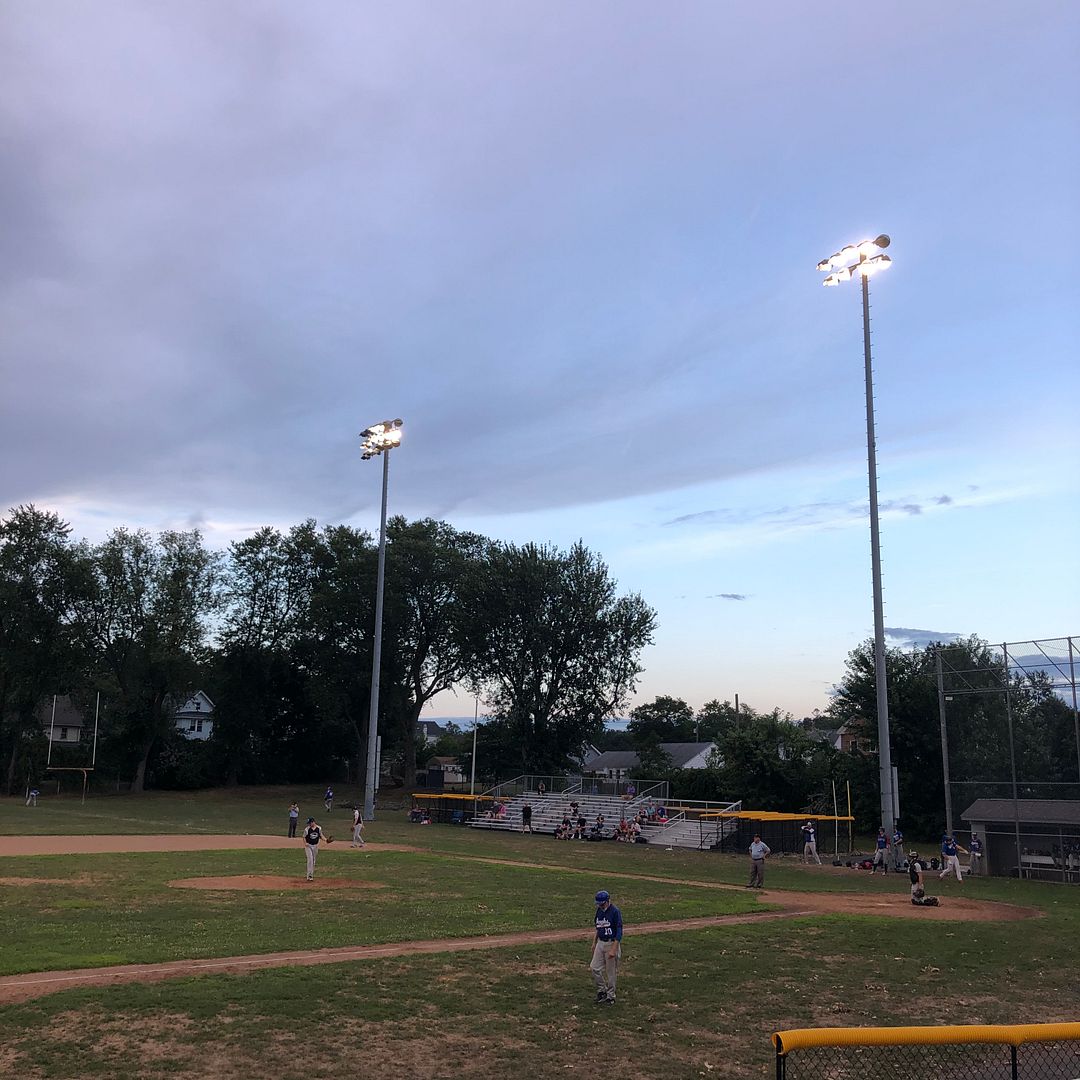 https://ghtbl.org/
Expos-Graphics box score:
https://hartfordtwilight.sportngin.com/game/show/28627677?subseason=688919
People's-Steel box score:
https://hartfordtwilight.sportngin.com/game/show/28627699?subseason=688919
People's-Jets box score:
https://hartfordtwilight.sportngin.com/game/show/28627660?subseason=688919
Additional photos can be found here :::
https://www.facebook.com/pg/raisedbycassettes/photos/?tab=album&album_id=4257942310913977
On this night at Ceppa Field the GHTBL regular season came to an end. It's been a great season with different teams in first place throughout and right up until the end every game has really mattered. You really couldn't have asked for a better season of baseball. I tip my hat to the South Windsor Phillies for becoming the champions, but it is a sign of how competitive the season was when they did so with an 8-4 record and second place is a three-way tie with teams who have records of 7-5. It was all just that close and exciting.
The Expos and Graphics had a game to makeup- which got rained out in Manchester- and they were supposed to do that this past Tuesday but a small tornado came through the state instead. It felt a bit like insult to injury, with the Expos up 6-1 in the top of the fourth, to finish this game, but the Expos added some more runs and were able to finish the game 9-2 and end their regular season on a win, which felt good. This also gives Expos pitcher Nick Foell the distinction of pitching a complete game over the course of several weeks.
I had little knowledge of the second makeup game- which I believe was called because it was dark- but it was resumed in the sixth inning with the score tied 7-7. The thing about these games going into them was it felt like they could be short because if there were only two innings left, how long could that possibly take? But being tied, this game remained that way until People's was able to score two runs in the top of the 11th inning, which the Steel could not recover from. We technically saw six full innings of baseball during this game which made it feel like a game all its own.
The East Hartford Jets players were getting antsy during this game too- some of them had shown up as early as 7:30- and they were cheering on Ulbrich to walk it off partly because they wanted to play and partly because they knew they were also playing People's next so a loss might help keep that momentum going into their game.
People's vs the Jets was such a strange game and I think it was because it was the last game of the season. On one hand, you become tied for second place if you win, on the other hand you get third place if you lose, but you all end up within this same cluster of teams and with the uncertainty of who plays who in a tie I think the teams just felt like they were gambling it. The only spot you really don't want to be in during the playoffs is G1- which is for the 4th and 5th place teams- because then you have to win that game and go onto play the first place Phillies, which seems to be the largest of obstacles.
Right in the first inning, People's scored two runs (one walked in) and it felt like the game was over. The mindset there was to just call strikes, just get outs and just get home. This was a pitching duel between Zach Gagnon of the Jets and Kienan Giller of People's. But when People's started falling apart in the 4th inning, allowing two runs to tie the game, what happened? People's eventually ended up bringing in Jack DeGirolamo to pitch, who I have seen at catcher and DH but never pitch before.
When the game felt like a stalemate at 2-2, during the bottom of the sixth inning Jack DeGirolamo threw a ball by the catcher to allow the winning run to score. It was only then that People's seemed to bring in their closer- Garrett Moran- who had been there all along. Why People's didn't go to him earlier was a question and a half because even though this was the last game of the season and the teams might be more focused on the playoffs, what's the point of playing in the first place if you're not in it to win it?
The Jets had their fair share of problems during this game as well. After they scored the two runs to tie the game in the fourth inning a runner tried to steal home and was caught to end the inning. What was the thought process behind that one? That could have been a difference maker right there.
In the top of the sixth inning People's hit a shot right down the third baseline. It was hit so hard that third baseman Nate Viera tripped over his own feet trying to get it because throwing it could be a double play, letting it go by would be extra bases. And then the umpire called it foul. That was actually the worst play of the game because that ball hit fair, was staying fair and the only reason why it looked remotely foul was because it came in contact with the Jets' third baseman.
We got to Ceppa Field a little before 6pm. We left a little bit before midnight. Quentin fell asleep at some point during the Jets game. It was a long night of baseball, but it was cool- it almost got cold- and all of the games really had that tension and drama you'd want to see to keep you watching and not make you want to leave. Well, except for the first game. No one saw a Rainbow Graphics comeback on that one. Now we move into the playoffs starting on Sunday and it really comes down to any team and any game.