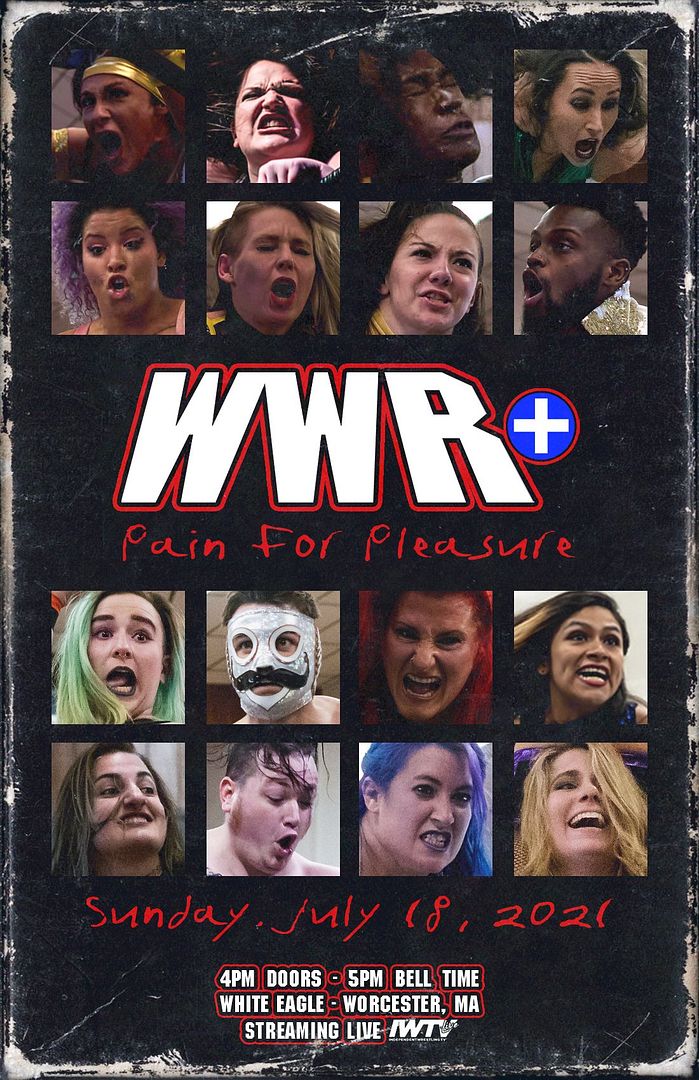 http://beyondwrestlingonline.com/

This was our third show with WWR+ since the promotion returned and it was the most difficult one to get to. Traffic was pretty terrible all around, as the directions rerouted us to not take the Mass Pike and instead we took a lot of backroads (which meant the number of minutes was double the miles), there was flashflooding and when we got there the usual parking lot we use was taken over by a bunch of trucks. We managed to find a public parking lot not that much further away and since it was Sunday it was free so that was a big plus.
When we got into the show and sat down, a few of the wrestlers even came in after us, just showing how bad it was out there. The show still started with a lot of energy and though the first two shows were a lot of fun this one just had something electric in the air- you felt like it was a big deal and the crowd was really into it. I love when wrestling shows go for the hot opener and this one did just that with Ashley Vox taking on Jody Threat.
One thing that I will admit plays out live in a somewhat confusing manner but translates on IWTV easier is how these first three matches flowed together. After Jody Threat defeated Ashley Vox it made sense for Becca to come out because Delmi Exo, her opponent, was already out there, but I didn't know we were going into a match right then so it caught me off guard. Then, as The Higher Society came out to taunt the Sea Stars and that turned into their match with The Outfielders I was a little bit more prepared.
Leave it to WWR+ to continue to blur the lines between heel and face as the first two matches didn't really have anyone get booed. The crowd loves the Sea Stars but we also love Jody Threat and Becca. It wasn't until The Higher Society came out that I heard the crowd begin to boo them and that is not just because they are such great heels (Please don't tell them that I said that) but also because the crowd just loves Boomer Hatfield and Molly McCoy. Molly McCoy did the "two for flinching" bit which had Quentin nearly falling out of his chair laughing.
Though I've not thought about it before, I think of this show as being in waves- the matches being in blocks rather than one big show or a show made up of individual matches. These first three matches felt like the first block and then the next two matches felt like the second block. I only put these two matches together because they both had the element of surprise. Veda Scott had an open challenge while the Rebecca Scott vs Kayla Sparks match was unannounced.
I really enjoyed the Veda Scott open challenge because not only did it involve someone who came as a complete surprise to me in Hot Scoop Skylar, but it also was just the match that both of these competitors needed to have. On one hand, I felt like some of the crowd was unsure as to who Skylar was, but being part of the Blitzkrieg! Pro Faithful, Quentin and I recognized her right away. Going right after Veda Scott and injuring that arm was something that was also unexpected but we need more unexpected in wrestling.
By contrast the Rebecca Scott vs Kayla Sparks match was possibly the quietest part of the show. I didn't know who either of these women were and I spent a lot of the time wondering whether or not this meant someone wasn't there and so one of the scheduled matches wasn't going to happen. It was also kind of crazy that Kayla Sparks made her return to wrestling after fourteen years (!) and lost. I did like how Rebecca Scott told the referee though that she was a flight attendant so she knew what she was doing, trying to outrank him.
In what would be the second block of matches I would consider the Kennedi Copeland vs RSP match to sort of be the main event there. This was a wild match where at least once I thought Kennedi Copeland was injured and yet also more than once I thought she might win it. I'm not sure where either of these two go from here but I will say that Kennedi Copeland did defeat Jody Threat the night before this in H2O so they are 1-1 against each other. Perhaps WWR+ can host the Kennedi Copeland vs Jody Threat rubber match. I'd also like to see RSP come back but against whom I cannot say.
The next four matches felt like the third and final block and that's because they were all main event worthy. One thing that I love about WWR+ is that based on these last four matches here, I had no idea which one was going to close out the show. I was partly expecting Willow Nightingale vs Tina San Antonio to do it since it was a grudge match, but then I also partly expected Trish Adora vs Ashley D'Amboise to do it because it's almost always Main Event Trish.
Riley Shepard and Kaia McKenna had a match where you just felt like every time you see them in WWR+ they show you a little bit more of what they can do. After the match, Little Mean Kathleen came out and issued a challenge to Riley Shepard, who accepted. I actually thought LMK might show up to answer the Veda Scott open challenge. Earlier in the show, I had asked Quentin if he was going to be able to sit through the next WWR+ show and then stand through Americanrana on the same day. He didn't seem sure, but when LMK came out to challenge Riley Shepard he got really excited and said "We have to see that match!"
Over the course of the first two shows, Tina San Antonio has stayed the most heelish of the heels. She decided to get into it with Willow Nightingale, who is universally loved and adored, and so I feel like this was the perfect contrast in face vs heel match. With special guest referee Damian Adams (who trains Tina San Antonio) this one broke down into the ref basically siding with Tina San Antonio and screwing Willow Nightingale out of the win. Quentin was very heated. As Tina San Antonio and company were leaving, Quentin actually got out of his seat to go closer to flip them off.
This is wrestling though. It's supposed to make you feel things. It's meant to be got into this passionately because the wrestlers feed off of that- I believe- and so it just makes everything more enjoyable overall. It's not golf. And so we go into our next match where Ashley D'Amboise, who is often cheered, takes on Trish Adora, who is quite possibly the face of WWR+ right now. These two women had a great match and really there is nothing but respect for either of them after it. Such good work and I'm not sure what is next for Ashley D'Amboise, but she seems ready to break out in WWR+.
The main event saw a shift in power of sorts. Davienne had been booed in her matches against Delmi Exo and Trish Adora. Now, Davienne was cheered for against Megan Bayne and it feels like it went the right way. The power of Megan Bayne is just undeniable. Seeing her go up against Trish Adora as somewhat of a super match is just going to be something else. Both women are 3-0 with Davienne and Ashley D'Amboise being the women they both defeated (Megan Bayne has a victory over Riley Shepard while Trish Adora has one over Willow Nightingale) and it's just going to be so good.
Though this was only the third show back, I think WWR+ has really come into its own with the roster to the point where you just know who the wrestlers are. It's a weird feeling but I haven't really felt it since I was watching WWE as a kid and then when I got into ECW. I feel like since we don't really watch WWE (and Quentin doesn't like to watch wrestling on television) this is kind of like his version of WWE in the '90's. Instead of having Diesel he has Davienne and instead of having Bret Hart he has Ashley D'Amboise. It's just something a little surreal to think about but WWR+ really has become one of my favorite places to go.