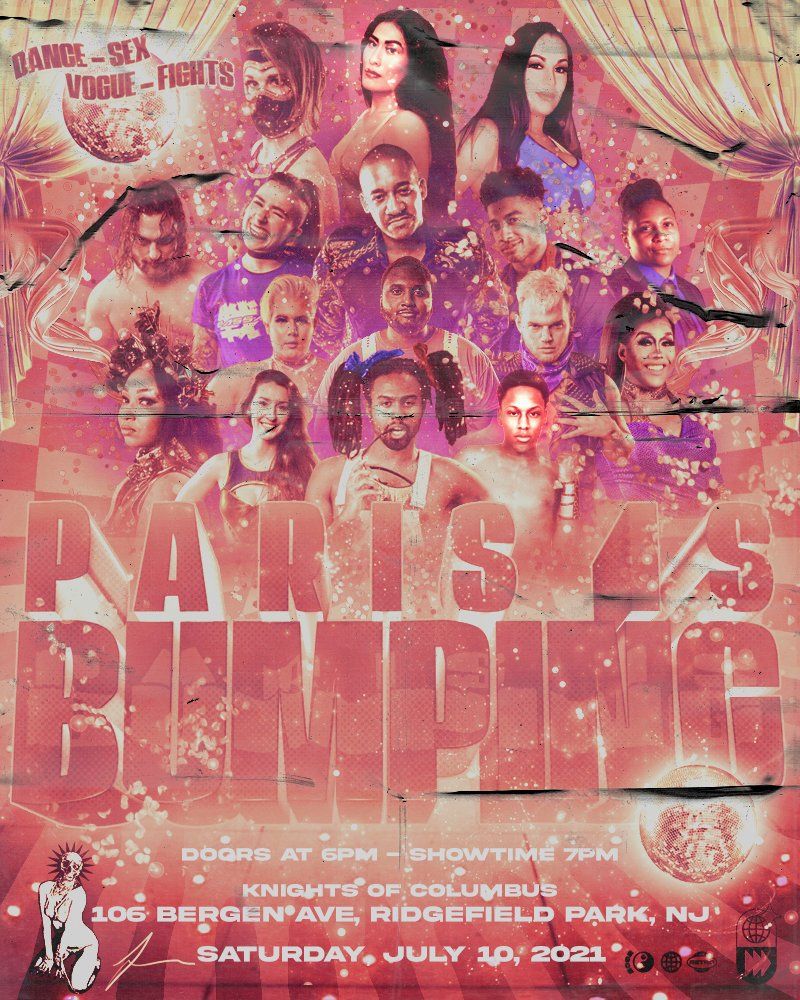 As I sit here, several days removed from Paris Is Bumping 2: Solid Gold '21, I feel like I am finally ready to type up some thoughts about the experience without giving too much away. I'm going to try and stay away from too many match specifics and the such because I don't want to think of this as being spoilers for when it airs on IWTV in the coming weeks but rather as a way to gauge the crowd and what the atmosphere was like at this party.
When doors opened (on time) and Jess and I were let in, DJ Accident Report was already spinning tunes. From the music to the lighting this gave away the impression that we had arrived at a dance party that just happened to have a wrestling ring in the middle of it. I've always felt like music and wrestling mixed so perfectly- why not hire a band to play during intermission or between matches, for example- and this just felt like one of those touches that made Paris Is Bumping so special but also something every promotion should really be doing. (That also seemed to be the theme for the night)
The wrestling on the show was there and it was really some of the best in ring work and storytelling you'll see. I don't want this to be thought of as a ballroom style party if it means taking away anything that happened in that ring. One of the things which made this show so remarkable was that it was able to provide entertainment on multiple levels. Everything was just top notch and that included the wrestling aspect of it.
Things started in the ring with Felicia Rose and I don't think you could ever find a more perfect character to have inside of a wrestling ring. Felicia Rose offers something that no one else can and she just has that it factor, that star power, when you see her inside that ring. Wrestling (not this show) is full of people who could put on a hoodie and sunglasses and you wouldn't recognize them on the street no matter how many of their matches you had seen live. This is simply not the case with Felicia Rose. Felicia Rose is instantly recognizable in any situation she is in and you should book her everywhere (but mostly near me)
This show had a lot of star power because it had a lot of characters. I don't want to feel like I'm calling out other promotions but there is a stereotype in wrestling for a reason where sometimes shows just have a lot of wrestlers with bad tattoos who all look the same. They aren't the type of shows I go to, but they're out there. But with Paris Is Bumping you don't see someone like Jared Evans and then confuse him with someone like Eddy McQueen. Everyone on this show is just so distinguished and I love that about it.
Before the wrestling matches the participants had these contests to do and there were judges for that. There were also times when someone such as Promise Juicy Couture would just come out and dance and it was wonderful. One of the reasons why I wanted so badly to go to this show was because I knew it would be a wrestling show, yes, but unlike any other wrestling show I've ever been to and it certainly lived up to that and more.
I really have nothing bad to say about anyone on this show, but there are a few people I'd like to recognize in a special way. First and foremost, let's talk about The High Society. I've seen The High Society on my television but also they have been crashing WWR+ events (which I attend live) and I even saw them as recently as Friday night at Lucky Pro Wrestling. I might boo the hell out of The Highers and talk a lot of shit to them on Twitter, but they have something special in what they do. The team work in their matches and just the way they blend together and with their opponents is not to be overlooked.
Within the world of Paris Is Bumping, Jordan Blade and Eel O'Neal are heels. I suppose they are heels most everywhere except in my mind. I love Jordan Blade. I have a healthy respect for and fear of Jordan Blade. By proxy, I love Eel O'Neal. I thought maybe this tag team match would be when fans actually cheered the Kings of the District because The Highers would pull heel shenanigans, but the fact that The Highers were actually cheered in this match was a bit crazy but I kind of sort of liked it.
I also need to give a special shout out to Washington Heights. As a teenager, I was at ECW shows in CT and the surrounding area watching New Jack fight through the crowd with weapons. If you had told me then that [redacted] years later I'd be seeing Washington Heights in the ring with an ECW shirt on during Paris Is Bumping I think... for one thing, I'd be a bit confused like "No way is that possible!" but I think it would also give me a lot of hope for the future. I'd have that feeling of "You know what? Life is going to be all right".
From the non-stop energy of Gabby Ortiz to the way you could build an entire promotion around Eddy McQueen. From wondering why Molly McCoy was a heel to Sahara shining like the star that she's going to be. From seeing Karen Bam Bam again and watching a somewhat new audience open up to her to being able to once again boo Darius Carter. I don't want to feel like I'm leaving anyone out so let me just say I also love Ashton Starr and Erica Leigh.
At one point before the main event match, Killian McMurphy walked past me and I asked him why he hadn't done that "SHOOTER!" part yet and he told me to shut up. That was worth the price of admission alone. But there was also a match with MV Young stripping the clothes off of Dez Monroe, PB Smooth and Myles Millennium. Eel O'Neal also pulled double duty in that tag match and by having a singles match with Devon Monroe, who was a highlight of this show just the same.
There comes a point after shows like this where I want to say to book everyone on this show. I want to see Mariah Moreno everywhere! But, I also just want to see all of these wonderful people together again for the same show. Switch the matches up, change the categories, but to keep all of these performers together is the way to sell tickets and it is the way to money (and the fact that the Knights Of Columbus was PACKED is proof of that)
On a final note, I just want to say that professional wrestling feels like a community. I like to say that inside of social circles- whether it be at school or work or your family- it always feels like that one black sheep, that one weirdo, is the person who goes to wrestling shows and thus when we're at wrestling we fit in because we're all the outcasts. That hit here on such a deeper and more personal level for me and to go from being a fourteen year old boy (ish) hearing fans in the crowd yelling the f-word to the Goldust character to what happened here on this night is just an experience you cannot put a price on. Thank you, Billy Dixon. Thank you, everyone.