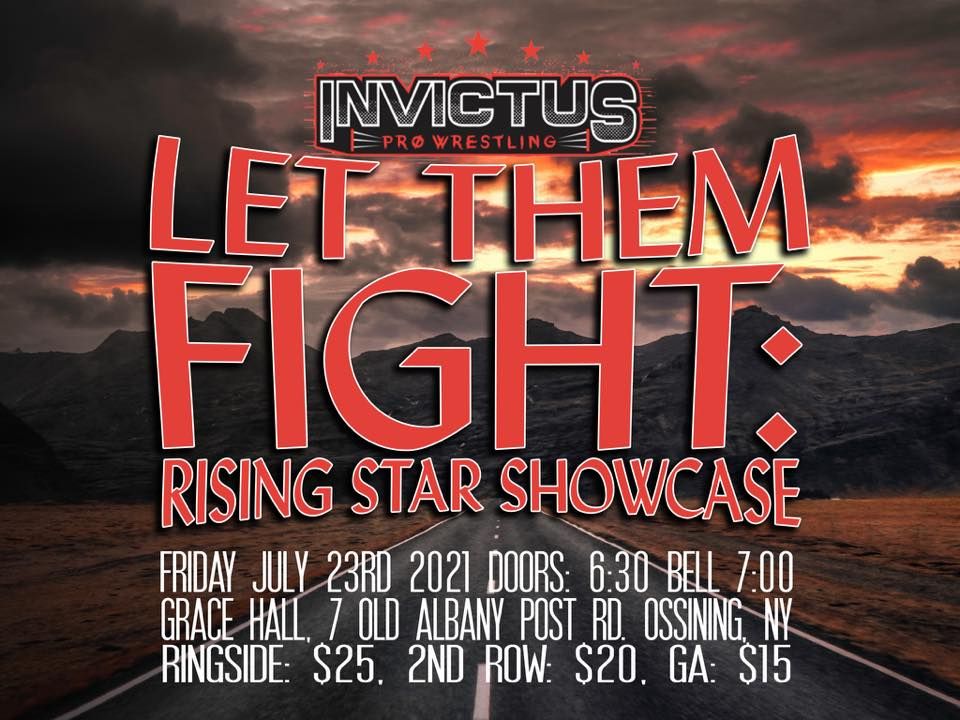 This show was almost three months to the day since Quentin and I first started going back to live wrestling out of the pandemic. It was also our third Invictus Pro Wrestling show as our first one out of the pandemic was "In Bloom". It's kind of crazy to look back at the last three months and the ride that they have been. This was also, for the record, the first time that Quentin attended a live wrestling show in the state of New York, so Invictus and Quentin were making that history together.
One of the great things about living in New England is that you're able to drive places and they aren't always big cities. We took a number of backroads it would seem to get to Grace Hall and any time we end up on a single lane road, going around sharp curves and such I feel like we're going into the middle of nowhere for an event and I kind of like it. Grace Hall itself had pretty full parking when we showed up but we saw Gio Galvano outside, asked him where to park and he helped us out.
Grace Hall is one of the more interesting venues I've ever been at to see anything really. To look on at the ring from the bar area (and from the vantage point of the commentary station) there is a stage with some seating on the opposite side of the ring. On the left, there was one row of seats up against the wall and this was where we were sat. On the right side of the ring though there were no fans. The section in front of the bar was filled with the most fans and the way that they were able to open up the doors and let all of those people see the show as well made it feel bigger.
The first match saw Dennis Morgan vs Max Zero. There was a door to the outside and curtains near us, but Dennis Morgan entered first and we don't really know where he came from. Max Zero came out through those curtains though and everyone after that pretty much entered right near us and that was fun because we got to either cheer, boo or give them the "Who are you?" treatment.
While I don't fully remember the match order I will just give some seemingly random thoughts about the matches as I remember them. InZanely Rude is a tag team I have seen before in NEW and so having them make their debut against Art Of War was a lot of fun. The crowd seemed really into InZanely Rude as well so I do expect them back at some point. There was also a tag team match between The Building Fund (Brother Greatness & Angelo Carter) vs SIN, which was JS Hawthorne and a sloth.
I've seen Brother Greatness in TOS and IWW so seeing him here was nice and he actually seemed to play the not-so-much-of-a-heel role as SIN was the obvious bad guys. The sloth was a character that I just felt worked on so many levels. He started off by being carried to the ring and then just sort of slept there for a lot of the match. JS Hawthorne was going to tag him in at one point but realized he was still sleeping and didn't.
When the sloth did come into the ring he moved slowly until his mask and top half of his suit came down and then he just opened up the attack in a wild way. I was yelling a lot for the sloth to be tagged in and Quentin loved him so despite the group of SIN trying to be heels I think that the sloth has star potential written all over him.
The Rising Stars Rumble was a lot of fun and everyone involved in it put on a good show. The highlights were Pancakes, Clipper Jones, J Boujii, Even Stevens, Phil Cardigan and PJ Savage cleaning house. Quentin and I discussed this prior to the match but I said that- because of how close we were to the ring- if someone we liked seemed like they were going to get eliminated near us we would help to kind of push them back in. This did happen- but only once- with Clipper Jones and we had our arms out to help him avoid elimination.
It was definitely fun to see The Stepdads inside an Invictus ring as well, even though while running to get into the ring Rad Dad kicked my knee and it's currently scabbing over and itchy. Such a price to pay for hours of entertainment, right. The crowd was perhaps most sad to see Phil Cardigan eliminated from this match and I most want to see J Boujii make his return to Invictus as I have seen him previously in TOS and think that in a one v one setting he could shine even brighter.
Aaron Rourke and Gio Galvano just put on this masterpiece of a match where they both really brought it to each other and it looked like at several different points either of them would win but then they didn't. It was one of those matches you should go out of your way to see if you either don't know anything about either of these wrestlers or if you do then you definitely want to see this match even more.
My biggest problem of sorts with this show came with the match involving "Mucho" Chris Moljo. MCM is a heel for the most part, this is true, but he does have this group of fans who show up to cheer him and wear his shirts. To further the idea of "who is the heel and who is the face", MCM issued an open challenge, thought this TKO guy was coming out as the ref and then TKO took his ref shirt off and attacked MCM from behind to start the match. In any other context, TKO would look like the heel here.
I feel like wrestling has evolved past the traditional "heel vs face" match to the point where you can have a match and not know who to cheer or who to boo but rather have to decide for yourself. So when I say this is a problem it's a good problem to have. For me, when we last saw TKO at Invictus he was doing the old Eddie Guerrero trick to let Vicki retain her championship over Riley Shepard. So, as I see someone now and think that not only is he a referee but he's also a wrestler and doesn't know that Eddie Guerrero trick but I'm supposed to cheer for him?
It just makes that gray area where the people next to us were cheering for TKO because they were his family. Some people were cheering TKO just because they don't like MCM. And of course there was a section of the crowd cheering for MCM. The fact that you can ask "Are you a heel or not?" to MCM and there really isn't an answer is what makes all of this so great. You can make a case as to why MCM is a heel and why in this match we should have cheered for TKO (MCM did attack TKO when he was a ref at the last show) but as I have done you can also make a case for the opposite.
Perhaps my favorite match of the night (which says a lot because of how amazing this show was overall) saw ABBS take on Myles Millennium (w/ Chef Big Dust) in a Hell's Kitchen match. Big Dust came out dressed like a chef and had a basket of food and other kitchen items which were used in the match. This was what would look like a death match otherwise but instead of those Atticus Cogar skewers, for example, ABBS stuck spaghetti into the head of Myles Millennium. Myles was also Raven in this match for reason I still don't fully understand but I went with it.
At one point during the match Big Dust hit ABBS with a spatula and it broke, the top part coming flying out of the ring near us. I tried to grab it but it bounced off my hand and landed a few seats over. The fan sitting there was kind enough to give it to Quentin and then we got it signed during intermission by ABBS, Big Dust and Myles Millennium. What other form of entertainment could send you home which such a souvenir?
The main event of the show saw Vicious Vicki defend her Women's Championship against Abby Jane. I'm not sure anyone has ever been booed so much in Invictus as Vicki has and cheered so much as Abby Jane. I know I typed that part before about blurring the lines between heel and face but this match was that classic heel vs face deal and it was so great. At one point, while on commentary, Quentin heard Big Game Leroy say "That is the viciousness of Vicki" and he started laughing.
What I loved about this show was that when I first saw it announced it was presented as a "Rising Stars Showcase" and I thought that it would be fun to go to because even if we didn't know the majority of the wrestlers on it that was okay because it's fun to see someone you've never seen wrestle before and become a fan. But we did know a lot of the wrestlers on the show still and it was a roster where if you were going to start a promotion and these were the wrestlers that you chose you would be very successful.