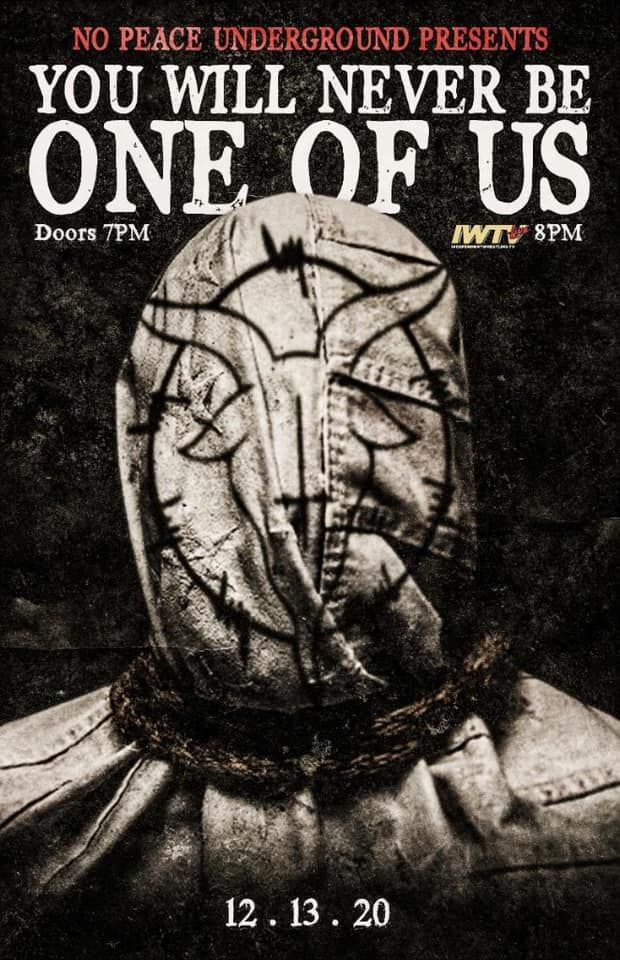 https://twitter.com/NoPeaceFL //

This was my first time watching No Peace Underground but I should also point out that I watched this show because it came up in the "Featured" and when I saw that MV Young was fighting Parrow in a No Ring Death Match I knew I was in. However, as I would later find out there are currently three shows from NPU on IWTV and this is the newest of them so now it's a question of do I watch the first one next or just go backwards. I will most likely go back to the first show on IWTV for NPU, but either way, I'm going to watch as much NPU as I can because this show was a lot of violent fun.
One thing which I saw on this show during several matches that I know is often just accepted in professional wrestling in general but something I can never quite get my head around is when a wrestler takes an unusually long amount of time to set up a ways of destroying their opponent only for it to backfire. I'm not just talking about setting up a table, but when you're building something like an architect of weapons then there is a 99.9% chance that you will go through the contraption rather than your opponent. I know why they do it (there is no real good work around it) but it's just giving your opponent time to rest and doesn't seem smart.
Another interesting thing about this show came during the Bam Sullivan and Alex Ocean match in which Joey Janela and Drennen discussed how by this point (it was match five out of six) we had seen a lot so it was really up to the wrestlers to outdo those matches before them because certain things would have felt most dangerous on another show but within the context of what was already seen it just might not have felt as much. I did enjoy that perspective and hadn't considered it much before. For me, it goes a lot with how wrestling relates to music and in that sense the order of matches is like the tracklisting for an album.
These matches all took place in what was called "The Pit" as there was a stage but no ring, so it gave it a unique setting, which is a nice way to stand out as a wrestling promotion. There were also these segments in between matches where one person was interrogating another and we didn't see either of their faces but it lead to some bizarre confessions. I'm not sure if these are in all of the shows or if there will be a payoff eventually or what but it was an interesting way to pass the time while I assume the floor of The Pit was being cleaned up.
MV Young and Parrow opened this show with an absolute classic match. Right there, this show was worth watching and for me it only got better somehow with each match that followed. I had never heard of Beastly before this show and I only knew of an Atticus Cogar but apparently there is also an Otis Cogar, so seeing these two men fight was fun and even the pig mask at the end of it was a nice touch.
Lindsay Snow had the breakout moment of the night. I think people will look back to this card and really appreciate it as the time when Lindsay Snow went from being someone I follow on Instagram to someone that you want to see get into a ring and bleed. It was just such a great match against Neil Diamond Cutter and one that I think is going to put her into that category of names more frequently discussed, at least by me.
Everything I typed about having the next match go above and beyond the one before it kind of gets thrown out of the window when you consider the wreckage that was Matthew Justice vs. John Wayne Murdoch. These two ended in a no contest and it's strange because it feels like if there aren't any rules there should have to be a winner so it kind of came as a shock to me that it could end that way. But the fans knew what was up because we got a "Fuck this ref" chant out of it.
In many ways, I feel like Justice-JWM was match of the night and definitely the main event, if only because Bam Sullivan vs. Alex Ocean fell a little bit flat (everything with the syringes just didn't work for me) but then Masada and Conor Claxton came out and put on a show which really has to be seen because it just full of so much destruction. Post match, Ricky Shane Page came out to attack everyone and basically this sets up RSP vs. Masada which is coming to the next NPU show.
I feel like there is this part of professional wrestling right now where you have certain promotions- like how ICW is doing No Holds Barred, GCW and H2O- and they all kind of have their core roster even though it can change from card to card and they can bring in special guests as well. But the thing with what No Peace Underground is doing is special because they bring in like RSP and Matthew Justice, who might best be known for GCW and then you have JWM representing ICW and Bam Sullivan comes from H2O and then you have the wild cards like Lindsay Snow and MV Young. So this combination of wrestlers is just... you couldn't ask for anything better and I love it all around.