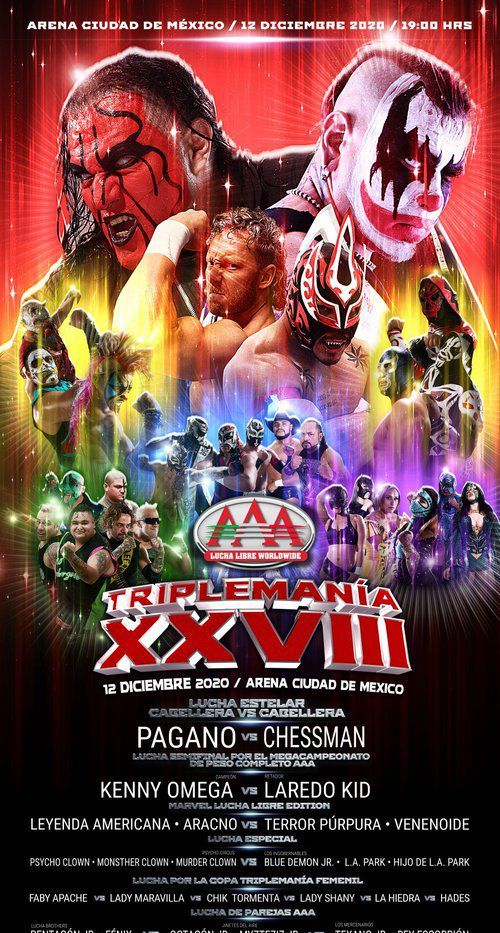 Official results via Cagematch can be found here.
[Unfortunately, as of this writing, Lucha Libre AAA has been removed from YouTube 😑]
One constant in my life has been Triplemania for the last fifteen years or so and I'm glad that AAA was still able to find a way to bring it to the fans with everything going on in the world in the year 2020. For many wrestling fans, they watch shows every year such as WWE's Wrestlemania and even Wrestle Kingdom, but Triplemania is that huge event within the world of lucha libre and somehow life wouldn't feel the same without it.
The show opened with a fast paced six man tag, which was a lot of fun and then it went right into the tag team championship match- which was a triple threat. While I enjoyed every match on this show (there wasn't a dull moment for me) I must point out that there was a hot start but also it felt like every match was a little bit more important and a little bit better than the one before it. I might be old fashioned in the way I view wrestling, but I really think that should be the way all major shows such as this are run.
During the tag team title match we saw The Lucha Brothers retain over the team of El Texano & Rey Escorpion and Myzteziz & Octagon Jr. I'm glad that Myzteziz (the original Sin Cara in WWE) has found some success within AAA and we've seen El Texano in Lucha Underground-- I really wish that he would be on more cards. I actually wouldn't mind seeing either of these two tag teams on every wrestling show in the USA, since it seems like The Lucha Brothers get around enough now.
As a funny side story: who would have thought that The Lucha Brothers would connect with the USA audience like they did? From Lucha Underground to PWG to AEW they've really become one of the all around best tag teams in the world. They received their first set of AEW action figures recently (in Series 2 in that line) which I would gladly buy (and review?) if I found them at Walmart, but I also have figures of them on pre-order from Boss Fight Studio and I am very excited for not only those figures specifically but what that line can bring to the table. I really hope for figures of La Parka and Blue Demon, but also a Pagano bloody variant would be an instant pre-order.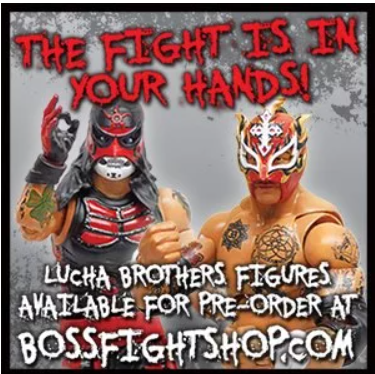 The third match was for the Copa Triplemania Femenil which featured nine women and had two start, a new woman entered every minute and elimination occurred over the top rope until the final two which switched to pinfall or submission. Not just because of their names and because they started (and ended) the match but Lady Shani and Lady Maravilla are two stars who I really hope to see more from in the future. This match was full of action and I don't really have anything bad to say about any of the women in it- the luchadoras- which really says a lot about the scene in AAA.
With seven matches, the halfway point would be the second six man tag match and it featured Blue Demon Jr., El Hijo de LA Park and LA Park vs. Psycho Circus. This is just one of those feuds and these are just luchadors who if they weren't on Triplemania it just wouldn't feel the same. Some names (which were in Lucha Underground, like Drago and Aerostar, for example) seem to be missing but without these six in some capacity it just wouldn't feel like Triplemania to me.
Up next was a tag team match which had wrestlers disguised as Marvel characters I suppose. It was a nice way to see Lio Rush get onto the show in Spider-Man looking gear though, so that's a plus. If there was a dull spot in this show it would have been this match but for a tag team match of Lio Rush & Daga vs. Brian Cage & Black Taurus it was what you would expect. Lio Rush was definitely a highlight as that man just does things which humans shouldn't be able to do.
We had two main events and the first was AAA Mega Champion Kenny Omega defending the title against Laredo Kid. Kenny Omega recently won the AEW Heavyweight Championship from Jon Moxley then went over to Impact Wrestling and said he was going to collect title belts, so while many are expecting Kenny Omega to capture that Impact Championship it would have been somewhat funny (and unpredictable) had he lost this title on this night. So there was a sense going into this match that Kenny Omega wouldn't lose but it was still a great match with a lot of back and forth wrestling and believable near falls.
If you ever wonder why many say that Kenny Omega is the best in the world and don't want to be bothered to go back in time and watch his matches from NJPW and the such, then simply go out of your way to watch this match against Laredo Kid. And it's not just about the match as much as it is that Kenny Omega can work with someone like Jon Moxley, who has a different style than Laredo Kid, and still have such great matches with both of them. That's what champions do and that's why I'm convinced Kenny Omega is one of the best active wrestlers right now.
Speaking of the best active wrestlers right now, Pagano took on Chessman in the main event of the show with hardcore rules and hair vs. hair. Back in January, I drove down to NJ for No Holds Barred Volume 1. Before everything started getting shut down, there was to be a Volume 2 and it was to feature Pagano. One day, it will happen and I will see Pagano wrestle in person. I might even get him to sign my little Pagano purse. Who knows. But this match was pretty crazy and it would have been a mistake to put it any where other than at the end. My personal favorite part of it was at the end, as Chessman is getting his hair cut, both wrestlers were sitting across the ring from each other and Chessman just took a chunk of his hair and threw it at Pagano, both men covered in blood.
Triplemania 28 was really everything you would want in not only a professional wrestling show but in a Triplemania. There was a ceremony during the show to honor La Parka, who went into the AAA Hall of Fame, and there were also some live performances of songs by the band Molotov, which it was really cool to see- music blended within the wrestling show. More promotions really should do that. Not only was this one of my favorite Triplemania shows but it was one of my favorite lucha libre shows. If you have the time and are curious, you should definitely go out of your way to watch this one.