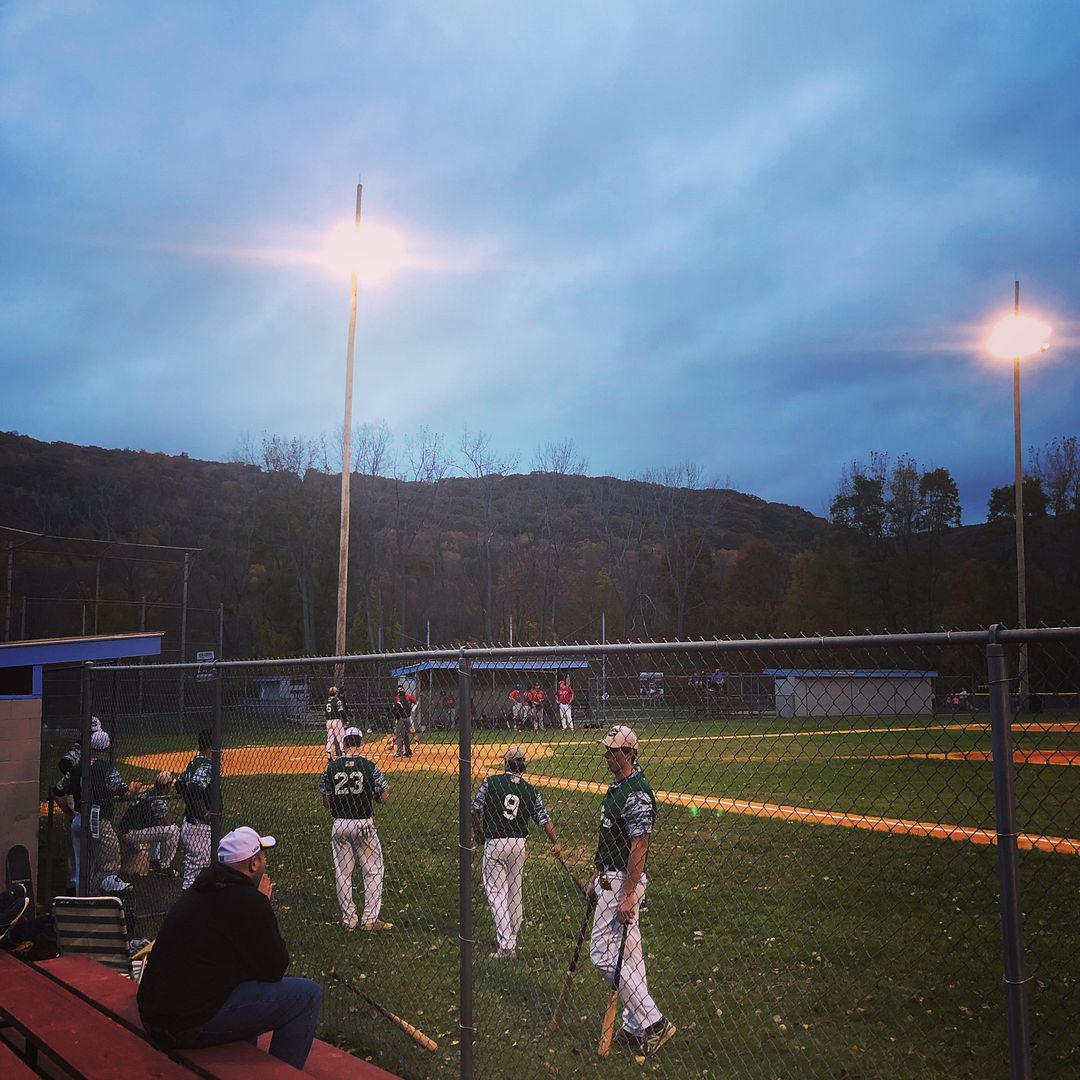 https://www.instagram.com/cflbaseball/?hl=en

https://twitter.com/ConnecticutFall

Additional photos can be found here:
https://www.facebook.com/media/set/?vanity=raisedbycassettes&set=a.4637323402975864

When the Connecticut Fall League announced a game in New York my second thought was about how few baseball games I've been to outside of Connecticut. In fact, the only time I think I've ever been to a baseball game in New York was to see the Mets (both at Shea as a kid and last year at Citi Field) So I don't know what type of person would drive an hour and a half to Amenia, New York to see a baseball game on a Tuesday night in late October but my dad, my son and I all must fit that bill since we made the trip.
Right away, I knew this game was going to be good. What I didn't know was that it was also the final regular season game for the Great Falls Gators, who fittingly enough started their season against the Great Barrington Millers. During that doubleheader the Millers won the first game while the Gators took the second and both have been key losses on each others records since. The Gators only have one other loss (to the Orioles) while the Millers have no other losses. This was, as they say, the rubber match.
We got to Beekman Park a little bit after 5pm because being in the car for over an hour I wanted Quentin to get out and run around before the game started. Plus it was the whole going somewhere we'd never been before and not knowing how traffic would be that made me want to leave early as well, but we made it to Amenia with little issue. We saw a lot of trees, some cows and even some sheep on our drive there. I was somewhat surprised to see most of the players already at the field an hour before the game but the umpires didn't show up until about 5:45 so that made me feel a little bit better.
I googled "Doc Bartlett Field Amenia NY" before making this trip and when I found this article come up I felt compelled to read it and I think if you have the time/interest you should as well. I didn't realize that the Tri-State Baseball League played on this field but not only do the Amenia Monarchs call this home they also have Bobby Chatfield on their roster. It's been fun this year seeing the Terryville Black Sox in the Connecticut Twilight League, the Bristol Greeners in the Nutmeg State Baseball League and the Canton Crushers here in the Connecticut Fall League so I might have to check out a Tri-State game or two next season.
This game started in a way which really seemed to set the tone for it overall. I feel like there is this whole idea of pitchers having the first one or two innings be rough and then they settle in and likewise the offense could get used to the pitcher and really come alive more further on in the game, but the baseball games I've seen more recently always seem to set the tone right within the first inning. Either you're scoring right out of the gate or it's going to be a low scoring game.
The top of the first inning was all strikeouts for Bobby Chatfield and even though he had many fans in the stands cheering and chanting "Bob-by!" for him I still feel like maybe I should call him Bob. (But it's too late to go back now) In the bottom of the first inning the leadoff hitter for the Gators got on. Willy Yahn came up to bat and blasted a two run homerun to put the Gators up 2-0 right away. You knew right then and there it was going to be this type of game. In his next at bat, in the third inning, Willy Yahn would nail another homerun, solo this time. You don't often see back to back homeruns like that but when was the last time you sat outside on an October night and didn't feel cold? There was almost a warm breeze in the air.
There were two more strikeouts in the second inning and then another two in the third. The third inning actually ended with a run down between second and third base in which the runner for the Millers got caught so he went out of the base path to avoid being tagged. Along with that solo homerun in the third inning by Willy Yahn a run also scored on a passed ball. In the top of the fourth there was a great play where a pitch went by the Gators catcher. The Millers had a runner on third so he broke for home, which to be fair when you're down that much you have to take those chances. Max Quinn threw the ball to Bobby Chatfield, who had just such a great presence of where to be, and that made that out.
My dad took Quentin for a walk during the bottom of the fourth inning and that was when the Gators offense really explored. After a walk, there was a single to put runners on first and second. Willy Yahn hit a ball to the Millers shortstop and at first it looked as if the shortstop caught it and then threw it to second base for a double play but apparently he didn't catch it and that became a fielder's choice. This put runners on first and third and that enabled a run to score on a passed ball. Then the Gators number 27 hit a double down the first base side to clear the bases.
Max Quinn would also play a key role in this inning as he stole second and in the process a runner on third went home. When you have runners on first and third, even if there are two outs, if the runner on first wants to steal second- let him have it. I've seen this play enough times now to know that every time I see it the runner has been safe at second and also then, obviously, at home. It is better to have runners on second and third than to have a runner on second and another run scored. But it is a sort of switcheroo type of steal that I do enjoy seeing and I wish people tried more. Worst case scenario you get a free second base.
The Gators were throwing strikeout after strikeout and in the fifth inning the Gators number 5, who Twitter tells me is Joe Rivera, blasted a solo homerun. Now, this would be less impressive in a game which already had two homeruns had it not then gone to where in the top of the seventh inning Joe Rivera came in to pitch and finish the game on a strikeout. So, you can debate which is a more difficult task to pull off- the back to back homeruns of Willy Yahn or the homerun followed by the closing of the game by Joe Rivera but both were just incredible to witness live during this game.