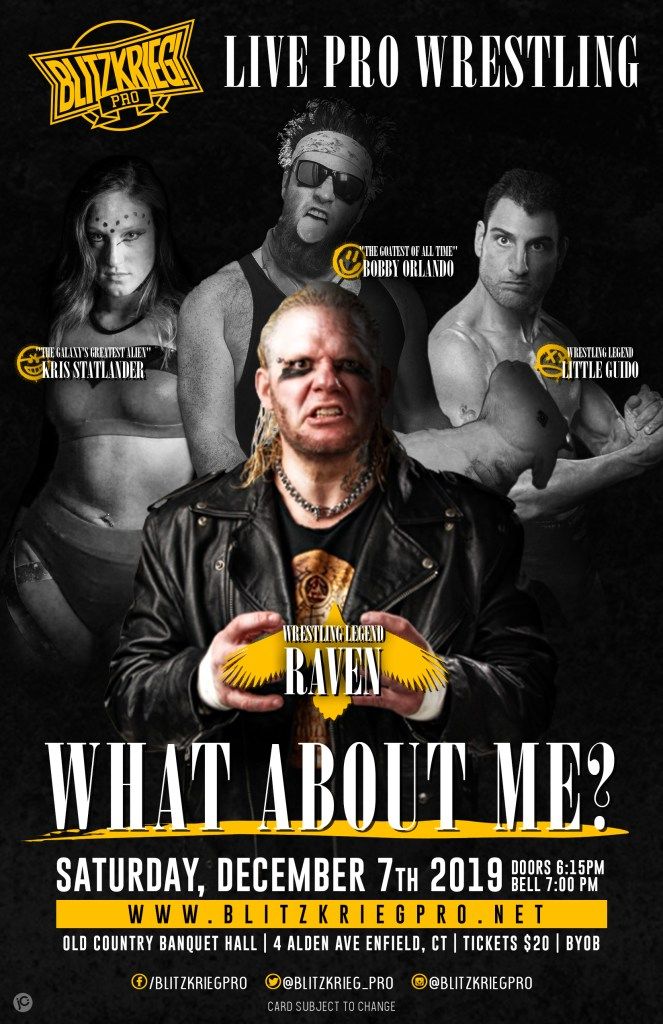 12/7/19
@ Old Country Banquet Hall / Enfield, CT
Before I went to my first professional wrestling show in over a decade, I also purchased tickets to this Blitzkrieg! Pro Wrestling show set to take place one week later. This show boasted Raven, Nunzio, Kris Statlander and all of your B!PW favorites so I assumed I'd have a lot of fun in MA and want to do it all again the following week, so I bought a ticket and was on my way.
It's funny how I thought this would be so much closer to me since it's in CT, but it was only really a fifteen minute difference from going to the MA Moose Lodge. I listened to My Chemical Romance and little else on the way there, while I listened to Sorority Noise and got donuts from 7-Eleven on the way home.
When I got to the House of Pierogies (as they like to call it) it was almost a half hour before we were let in. Once inside, they had Raven set up for autographs and photos and for some reason I was the only person who bought a ticket to sit on the stage and the woman at the door told me I'd be on the stage by myself. That was fine by me and as I looked to see who was selling what I decided to take my seat and wait for the show to start.
Though it had only been a week, I still was happy to see some of the wrestlers who I saw the week prior and felt like I knew now. CPA and Evil Kip Stevens were among the wrestlers in the first match scramble- along with Dangerkid and whatever the hell he brings to the ring with him. The Shook Crew ran a similar angle as the week before with Kirby Wackerman teaming with Bryce Donovan against a different team this time though, in the Apostles of Chaos. Instead of Bryce Donovan leaving though, the team ended up taking a solid loss.
In what was clearly the match of the night, the team of Skylar, Davienne and Ava Everett took on DL Hurst, Jeremy Leary and Scotty Wild (who I think should be "Scotty Wyld") in a battle of the sexes. The women were called "The Girls Room" and they came out dressed like Power Rangers. It was my first time seeing Davienne, but I had seen Skylar the week prior and I recognize Ava Everett from appearing on IWTV with Retro Anthony Greene. I really enjoyed this match and wish it didn't end with DL Hurst using a chair on Skylar. After the match though, Hurst hit Scotty Wild with the chair as well so at least he went full heel.
Being the holidays, we had a "Santa's Surprise Hardcore Match" with Jeff Cannonball taking on Alexander Lee. I'm not familiar with either of these wrestlers but they did some fairly hardcore spots and spent a lot of time outside of the ring.
After they cleaned up that match, Raven came out to talk about a young man named Julius who has had a tough life and all he wanted was to attend a pro wrestling show, so the Blitzkrieg! Pro crew brought him here. This was discussed on social media, but they also raised money to get this kid a PS4 and other Christmas gifts and it just makes me happy to be part of a community that would do something like this. Yeah, I'm a fan of wrestling because it tells stories through violence and in 2019 it's not something you have to be as ashamed about, but this is one of those times where I look and think about why I also really love pro wrestling.
During intermission, I found the Girls Room near the ring and took a picture with them- mainly to show my son because he's a huge Power Rangers fan- and then I wandered around the merch area. DL Hurst said that if I didn't buy a shirt from him he'd hit me with a chair so I had no choice but to do just that.
I was having such a great time and the show was only halfway over. The second half kicked off with Bobby Orlando defending his title against Kris Statlander in a No DQ match. This seems like it would favor Kris Statlander, but Bobby Orlando managed to pick up the win. Seeing Kris Statlander live was one of my goals since watching IWTV and going back out to see wrestling live again. I have a question though: Why doesn't she sell merch at these events? The crowd seemed really into her and if she had some shirts out I'm sure they'd sell. Just seems like leaving money on the table to me. But who am I to say how these things work, right?
During the next segment turned into match, M.A.D. (which stands for Mutually Assured Destruction and are the team which really impressed me last week) came out and then Nunzio came out and said that he needed a tag team partner which brought out Oswald Project. If you've not yet seen Oswald Project, you need to watch more Pizza Party and Limitless because that's where I've seen him. This was a great match though, which the team of Nunzio and Oswald Project won, so perhaps they will return to B!PW one day as a tag team.
The main event saw Smart Mark Sterling vs. VSK, which is one of those things where they're not friends here but if you watch them in other promotions (cheap pop for IWTV again) you'll find them as friends. After VSK won this match, he called out Bobby Orlando saying he wanted a match for the title. First, DL Hurst's music hit though, which brought him back out and he said he wanted a match as well. Eventually, it became a done deal that there would be a match- a triple threat match- on the 2/29 B!PW show, which is one of the two February dates for B!PW and I can't wait for tickets to go on sale.
After all of the wrestling I was going back towards the merch tables and somehow almost ran into Pinkie Sanchez, who I stopped to talk with and took a series of photos with as well. I then went over and spoke with Oswald Project- and took a photo with him- as well. This was the last Blitzkrieg! Pro show of 2019 and my second time seeing them, but I really do hope to make it to all of their shows in 2020. I also must not eat the Chinese buffet before the next time I go to Enfield because they were both pierogies and kielbasa available and next time I'm going to get me some.