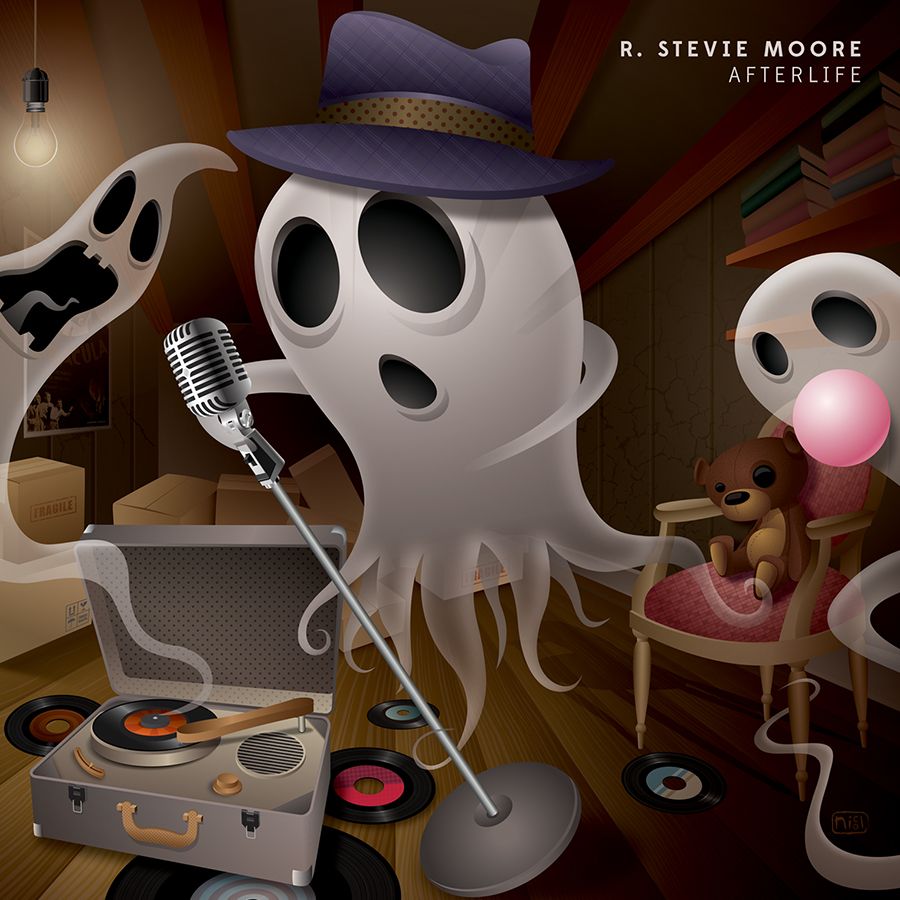 http://www.bar-none.com/store/r-stevie-moore-afterlife
//
R. Stevie Moore has been making music since before I was alive (and probably if you're reading this, you too) and while I feel like every album R. Stevie Moore has that quality of "If you only listen to one of his albums, make it this one!" this is a point you could perhaps stress the most with "Afterlife". These songs are upbeat, dreamy pop rock that finds the balance between past and present. Hopefully, if you listen to this and enjoy it as much as I do, you'll also find it to be a portal to the past and begin to listen to more R. Stevie Moore music than you know what to do with.
From that band that had that song in "That Thing You Do!" to "Pop Music" coming out sounding like "All the Young Dudes", there is also this cool spoken word type break down within that second song. "Come My Way" reminds me of The Beatles or at least something in the classic pop rock way, while "The Winner" is just plain fun. The drums on "National Debate" are great and the line of "You're a rotten so-and-so" is as well. Unlike most political songs out recently, this one doesn't really name names so it can apply to most all of those corrupt politicians. (And I say *most* #TeamAOC)
"What Do I Do With the Rest of My Life?" asks the big questions. I really stay awake at night thinking about these things and it's not the best way to spend my time, but at least someone else is addressing it in a way that is not just inside my head. The lyrics "Don't bore us / get to the chorus" are what I should sing when I convince myself to stop thinking about my place in the universe and what it all means when I should be trying to fall asleep. I end up thinking about less pressing questions but I do still wonder where my place is in this world.
I love the show "Grace & Frankie" and I think it's a great example that you are never too old to fall in love. "Another Day Slips Away" is fuzzy and relatable when it comes to the ins and outs of every day life. It's a good reminder that we all have to experience those annoying aspects of life which seem like they're wasting time. I have to clean my bathtub this weekend, for example, and I don't think it's the best use of my time, but it's one of those things we all have to do unless we have like a maid service or something. It just makes the more routine things about day to day life feel less stressful because we have to just accept them as ways we all spend our time, ultimately.
"Here Comes Summer Again" reminds me of the Beach Boys but maybe only because of the subject matter. The sounds on "You Don't Have to Worry About My Love" have more of an orchestral feel to them and then we go into these dark acoustics on "Back In Time" to end out "Afterlife". I hope that the idea of him singing about wanting to go back in time on the final song makes you also want to go back in time by listening to all of the R. Stevie Moore music which came before this but, yes, "Afterlife" is a true masterpiece. They don't make music like this anymore so we should all be thankful for R. Stevie Moore.