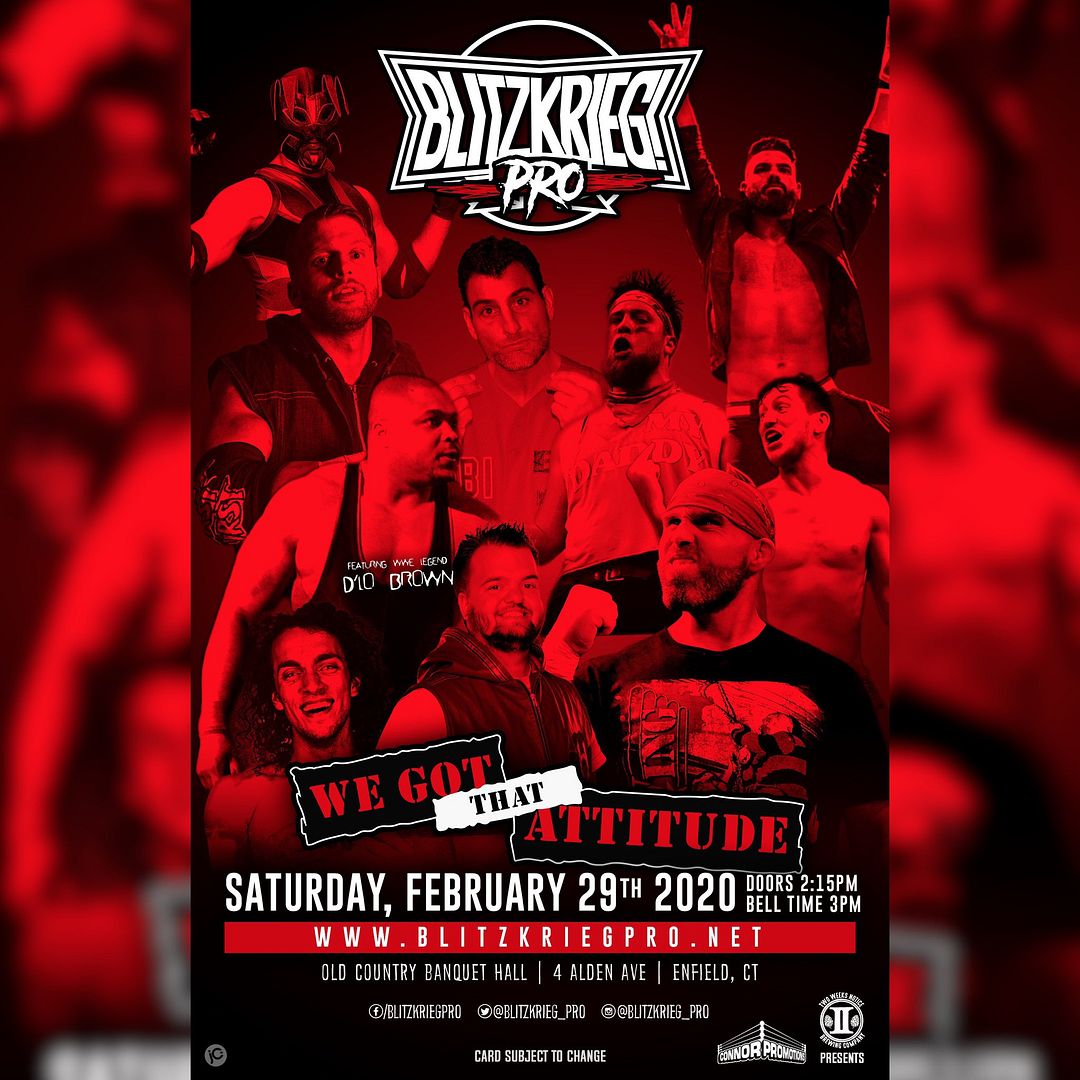 Additional Photos can be found in a Facebook album here :::
The last time Blitzkrieg! Pro was in Enfield, VSK defeated "Smart" Mark Sterling in the main event and thus was set up for a title shot against Bobby Orlando. This brought out a pissed off DL Hurst, which had this triple threat set up for this show. That match alone had me ready to buy tickets and return to the House of Pierogis and then a lot of other stuff happened. And by "a lot of other stuff" I mean that names got announced like Tony Deppen, D-Lo Brown, Swoggle and Nick fucking Gage.
As a point of reference for how old I am/how long I've been watching wrestling I've likely seen D-Lo Brown live before, even if I don't remember it, because when he was in WWE was the time when I was going to their live events once or twice a year when they came to CT. Swoggle was in WWE though when I stopped going to live events (though I did still watch on tv at least- his WeeLC match against El Torito is a classic) so it's fun because I've never seen Swoggle live before and I feel like this is my first time seeing D-Lo Brown live as well, just because.
After five hours sleep, lots of caffeine and then listening to Poppy and Refused, we got to Enfield around 2:20 pm because I thought doors would open on time. Originally this was going to be a night time show but apparently something else was happening at night so they moved it to the day time [Side Note: There was also a Shine show in NYC today but that was also day time. There was an EVOLVE show in NYC at night but I don't think anyone could have really done both] so I thought we were on a tight schedule and, yeah, doors never open on time anywhere for anything.
We weren't outside for that long though. On the way there we saw some snow flurries, so at least we were in the sun most of the time. Once we got in, we put coats on chairs on the stage, and then we went over to where there were two tables: one for D-Lo Brown and one for Swoggle. I wanted Quentin to take a picture with one of them and as soon as he saw the merch Swoggle had it was settled. We bought one of the plush toys that Corey Goodman makes (which goes with our Joey Ryan one!) and then Swoggle took a photo with Quentin, which was nice because he did the photo with the merch purchase. (I think initially he just wanted to sell me an 8x10 for $10 for the photo but I ended up spending more money because it's what I do)
Before the show even started, we got our first lesson of "How to be good wrestling fans (and people)" on the stage and this is how it should always be. The stage has one row of seats on it and it was sold out. As it was nearly full, there was one seat next to me open with people then on the other side and the same thing on the other side of Quentin. Someone showed up and said "We're a group of four, can we make it so we can sit together" and we all shifted so the group of four could sit together because that's what you do.
The thing I like about Blitzkrieg and why you should watch these shows live if you can is because you never know what's going to happen. The other day on Twitter I saw a match announcement somewhere with Aaron Rouke and I thought "Oh yeah! What happened to him?" and then he comes out as a surprise to open up "We Got That Attitude". Also, with an injury suffered by Oswald Project we got to see Nunzio instead team with Pinkie Sanchez, which was quite fun. (And MSP somehow got cheered?)
In our third match, Nick Gage went to war with Jeff Cannonball and Nick Stapp. Before this match, on the drive there, I told Quentin that for this show and this show only, since Nick Gage was there, he could have a swear pass. I told him he could say "MDK all fucking day" when everyone else did but I don't believe he did. He did, however, get shook by Nick Gage during Gage's entrance and that was pretty special. I popped big for that moment right there because that's what it's all about.
Aside from the entrance there are two moments I will always remember about this triple threat match. First, Nick Gage pulled out a pinata with a Frozen theme that ended up having Legos in it and the crowd started a "Let It Go" chant. Never did I think I'd hear that, but here we are. Nick Gage just destroyed most of the seating area because Nick Gage does what he wants and that level of destruction is just something you have to see live (and it had most of the crowd standing for the show because fuck those chairs)
Now at one point during the match, Nick Stapp was a bloody mess- he'd been beaten up all match- and Nick Gage had him in the corner with this board over him and it was just so brutal. Quentin was sitting on the edge of the stage and made this face where he put his face down into his hands like "I can't watch" and the guy two seats over from me was pointing it out and laughing and I go "He's too young to watch a man die!" and the fan two seats over said "I'm too young to watch a man die!" Nick Stapp didn't die but they tried to put music on to play out Nick Gage when he wanted to talk and that was something I wouldn't have done. Nick Gage is done when he's done.
After cleaning up that match we went into a four corners tag team match which had M.A.D., the CDC, The Girls Room and the team of Bryce Donovan and Kirby Whackerman with Kirby dressed as a goat though I feel like it really looked like a unicorn costume more. But anyway, that was an elimination style match so not too many pinfall break up attempts and at one point Rip Byson took a break to sit in the crowd and watch and that was fun.
On the last Blitzkrieg! show, Joey Ryan was the before intermission main event and this time it was D-Lo Brown, so I'm beginning to sense a pattern. If I ever thought I would see D-Lo Brown vs. Hermit Crab... I don't know what I would have had to thought up in my mind to come up with this match, like just me thinking one day "You know who should fight" but it just somehow works so well together. It became such a perfect match and I loved every second of it. Only in 2020, only in Blitzkrieg! Pro can you see such things that weren't even thought possible in your wildest dreams.
During intermission, we made the rounds through the merch tables. I had purchased a "We Got That Attitude" shirt online beforehand, so I picked it up there and I'm really trying not to buy one than one shirt per show because I'm slowly getting to the point where all the t-shirts I wear are going to be wrestling related and I really need to also have music and baseball related ones as well. We were talking with DL Hurst and before the show I told Quentin to go tell him he stinks on ice. Quentin made it down to the merch table, but wouldn't tell him because he said he didn't want to, so I guess Quentin will like some of the heels.
Somehow, Nick Gage eventually came down the steps and people slowly began to gather when they saw him. He was nice enough to take a photo with Quentin and I told him the next time I'd see him would be against Pagano and that's going to be so insane. I had this idea in my mind of four different people I wanted Quentin to take photos with at this show and so far, I had managed to find half of them.
The first match after intermission saw Logan Black and Chris Benne defeat The Arsenal and then Chi got mad and turned on them for losing. This took us into one of those first time matches I never knew I needed to see between Tony Deppen and "Smart" Mark Sterling and wow did this match deliver. There was also this feud going on between Tony Deppen and a child in the front row (Blitzkrieg! children are wild) and it added another level to the wrestling go on inside of the ring. It's crazy to me to think how these matches have these entertaining aspects to them but you could also just watch the pure wrestling of it and be entertained.
During the scramble match with Swoggle, Max Caster made his in ring return and at one point he was outside of the ring and Quentin was taunting him and he told Quentin to leave him alone. There was so much going on in this match- mainly Swoggle chasing everyone around- and it was a lot of fun as the in between of the Deppen-Sterling classic and the main event. The main event was a tough call for me because I thought for sure VSK and DL Hurst would team up somehow to take Bobby Orlando out of the match and we'd have a new champion. At one point, I was 90% certain DL Hurst was going to win it. The fact that Bobby Orlando snuck in and stole the win was something I didn't really consider happening, but after it did it just made so much sense.
After the show we stayed stuck around so Quentin could get photos with Bobby Orlando and Ref Gina aka Bear Stripes. Bobby Orlando gave Quentin the choice to hold the championship or Bobby Jr and of course Quentin chose Bobby Jr. I was really happy Quentin got to see Bobby Orlando because he wasn't on the last Blitzkrieg! show and now I feel like all of the characters are slowly coming together, not only for him but for me as well. Sometimes you just have to put the time and effort into making something really work and I feel like if you're paying close enough attention you'll see that with Blitzkrieg! and its roster.